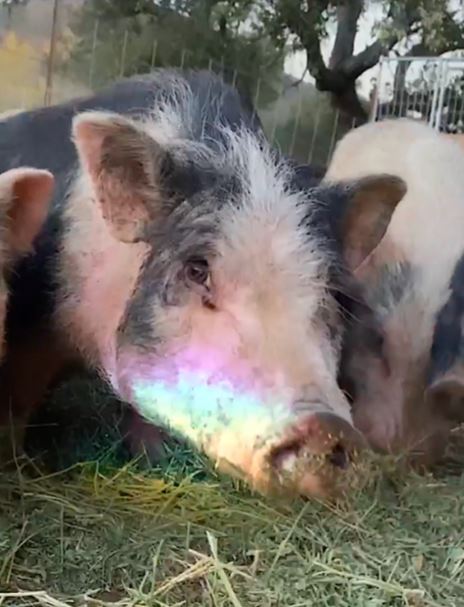 There are 250 pot-bellied pigs temporarily housed at Stoney Oaks ranch who are in need of a forever home after being res­cued from an out-of-control situ­ation in Bakersfield.
Stoney Oaks Ranch owner Angela May said the piggies were relocated to her property after a well-intentioned lady who initially took in 60 pigs was overwhelmed by an unexpected mating situation.
"She started with 60, ended up with about 400 and was doing her best feeding and caring for them, but it was financially and physically too much to handle," May said.
A humanitarian emergen­cy aid response team called H.E.A.R.T. was called for assis­tance— they just happened to be the same one that had recently partnered with Stoney Oaks ranch during the Valley fire.
"Right after the Valley fire, we were approached by H.E.A.R.T. who utilized our ranch as kind of a home base for horses and livestock. They were on our property and worked with us for several days, and it developed into a really great relationship. Well, here we are working to­gether again, this time to help these little pigs," May said.
H.E.A.R.T. President Rena Sa­lomon said she stepped in when the homeowner in Bakersfield, frustrated with the situation, said she would trust her to re­move all the pigs at once and transport them to a safe place where they could be adopted out to families.
Salomon, who earned the mon­iker 'Angel in a Hummer' after her efforts following Hurricane Katrina said she has been all over the world with rescues "af­ter catastrophes, earthquakes, to Indonesia, Puerto Rico and usually you send someone like me into fires to get the animals out and then someone else takes over".
In this case, there is no one to take over so she and May are working together to keep all the animals fed and cared for until they find homes.
"There are a handful that need vet care who are getting handled. They're happy, they're healthy, they have clean water and now they just need homes," May said.
Salomon said she is accept­ing donations for food and care through H.E.A.R.T., "a non-prof­it, 501-c-3, with all donations ful­ly tax deductible" but "mostly want to get the word out that they need to get adopted".
May said there is no fee for adoption but potential piggie owners will be vetted to ensure they are going to appropriate homes.
Anyone interested in adopting a pet piggie or making a dona­tion to help defray costs can visit www.potbellyrescue.org. for more information.