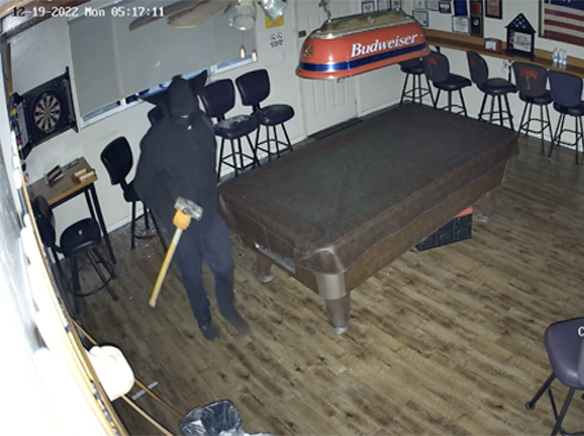 The Alpine VFW post was burglarized in the early morning of Feb. 2. This marks the second time the veterans' post has been hit by thieves in less than two months.
According to VFW Commander John Paul Sullivan, the crime appears to be almost identical to a Dec. 19 break-in which two burglars entered through a window and took cash from the register and wheeled out the automatic teller machine maintained by a third-party contractor.
This time security camera footage shows two individuals broke the lock on the back door of the post, stole the safe located under the bar, and wheeled out the newly-replaced ATM. Again, a getaway driver waited in the car outside and the thieves got away before deputies arrived on site. San Diego County Sheriff Media Relations Office representative Melissa Aquino confirmed deputies "responded to an alarm call at the Alpine VFW post" around 5 a.m. on Feb. 2 and arrived to find the door forced open.
"Based on the preliminary investigation, this is possibly related to similar burglaries in the region," Aquino said, but could not release more information as the investigation is ongoing.
Sullivan also said he is frustrated that the burglars appear to be familiar with the post yet he is at a loss for how to prevent repeat incidents and has nowhere to turn for help.
"We've upgraded our security cameras, we improved the lock on the safe— what else can we do? It's nerve-wracking," Sullivan said, while a post member repaired the broken door.
Anyone with information about this case is urged to call the Alpine Sheriff's Department at (619) 659-2600.