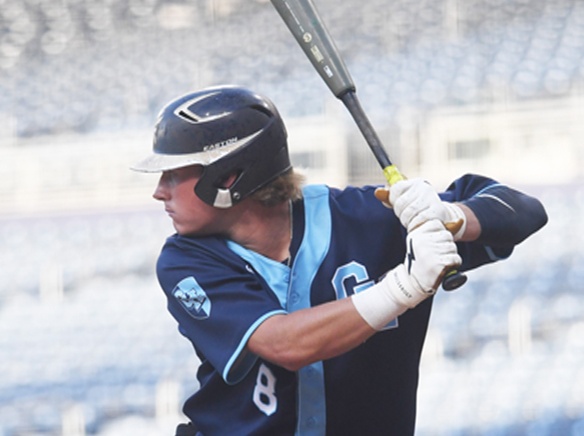 The 2020-21 high school sports season is finally in the record books and what a season it was – fresh with intrigue, dra­ma and, of course, uncertainty.
The 2021-22 season is just around the corner. Football practices can begin July 30.
It's time to celebrate the stu­dent-athletes and coaches who helped make the 2020-21 season a reality, and ultimately a suc­cess story in its own right.
The San Diego Sports Asso­ciation released its All-San Di­ego Section teams, recognized with Breitbard Athletic Awards, earlier this month in girls wres­tling, coed tennis, boys and girls swim and dive, boys and girls track and field, boys and girls golf and girls lacrosse.
A media panel released addi­tional all-section teams in boys and girls water polo, boys vol­leyball, boys lacrosse, baseball and softball.
All-CIF teams were not cho­sen for Season 1 sports such as football, girls volleyball, boys and girls cross country and field hockey. All-CIF teams also were not selected for Season 2 sports such as gymnastics, boys wres­tling, boys and girls badminton and roller hockey.
East County was well repre­sented across the board, but es­pecially so in baseball.
First team all-section picks in baseball included Granite Hills High School seniors Aus­tin Smith and Noa Ponciano, Christian High School senior Braeden Ross, Grossmont High School seniors Caleb Hommel, Isaiah Gomez and Evan Vasi­liou and Santana High School sophomore Koda Alto.
Smith (.459 hitting average, 19 RBI) and Ponciano (8-4, 1.18 earned-run average) helped the Eagles (28-10) to postseason glory by winning both the San Diego Section Division I and Southern California Division III regional championships.
Hommel (.455 hitting aver­age, 55 RBI, 11 home runs), Gomez (.450 hitting average, 49 RBI, 14 home runs) and Vasiliou (.370 hitting average, 25 RBI) were members of the Foothill­ers' Open Division runner-up team.
Vasilioiu earned honors as the section's pitcher of the year while Grossmont head coach Jordan Abruzzo was selected as the section's coach of the year.
Vasiliou finished 11-1 on the mound with a 1.74 ERA and 101 strikeouts in 80.1 innings.
Alto finished 9-0 on the mound with a 2.17 ERA for the Grossmont Valley League cham­pion Sultans (21-6).
Ross (.457 hitting average, 44 RBI, 11 home runs) sparked the Patriots (17-5) to a 12-0 finish as City League and Division III section champions. He also post­ed a 5-1 record on the mound with a 1.07 ERA.
Christian finished the season in the Southern California Divi­sion V regional championship game, recording a runner-up finish to top-seeded La Habra.
Second team all-section picks in baseball included Granite Hills junior Grant MacArthur (.393 hitting average, 28 RBI) and Steele Canyon catcher Jake Entrekin (.455 hitting average, 46 RBI, nine home runs).
Smith, Ponciano, Ross, Go­mez, Vasiliou, MacArthur and Entrekin all took part in June's Padres High School All-Star Game at Petco Park.
Besides posting prolific hitting statistics, Smith also recorded a 6-4 record on the mound with a 3.50 ERA and 105 strikeouts in 68 innings. Ponciano had 102 strikeouts in 83.1 innings.
Grossmont finished the sea­son 29-7 as Grossmont Hills League champions.
Steele Canyon (23-12) had a record season with a runner-up finish in the Division II champi­onship game.
Four East County players were honored on the all-section softball team.
First team All-CIF picks in­cluded Granite Hills freshman Sofia Mujica (.512 hitting av­erage, 30 RBI, 17 home runs) and El Capitan junior Hailey Mulligan while second-team all-section selections included Helix junior Sofia Ramuno and El Capitan senior Katy Hicks.
Ramuno help lead Grossmont Hills League champion Helix (26-6) to a runner-up finish in the Division II championship game by posting some unreal numbers during the season that included a 13-1 record, 1.00 ERA and 203 strikeouts in 139.2 innings.
Mulligan and Hicks were members of El Capitan's Gross­mont Valley League co-champi­onship team. Mulligan hit .488 in 13 games with nine RBI and four home runs while Hicks bat­ted.378 in 15 games with seven RBI.
The Vaqueros finished 17-8 overall. El Capitan shared the league title with Santana as both teams finished with 7-1 league records.