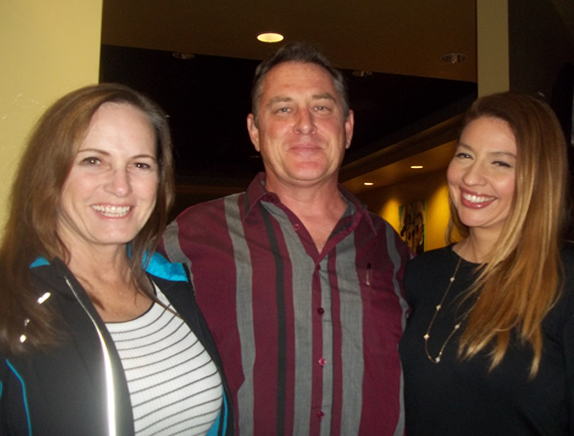 It was all about sharing infor­mation, meeting new people and enjoying the evening on Jan. 17 at the Alpine Chamber of Com­merce Third Thursday Mixer.
Everything from business ideas and organization events to possible partnerships for projects were discussed by the Chamber crowd at La Carreta Mexican Restaurant & Cantina in the Alpine Creek Town Cen­ter at 1347 Tavern Road.
Chamber Ambassador Chair­man Jeff Campbell of San Diego Estates described the casual evening as useful to Chamber members who want to let the community know more about their businesses and organiza­tions.
"We have to let people know that we're here and that we're exceptional at what we do," Campbell said. "Then you have to remind them."
Jim Lundquist of the Pacific Southwest Railway Museum in Campo was talking with Chamber Director Rose Signore about the dog that's helpful at her business, Postal Annex of Alpine.
"And I'm promoting the fact that we're building a mine vil­lage for Roy Athey's old train, the Descanso, Alpine & Pacific Railway, that he donated to us last year," Lundquist said. "We're gathering donated old equip­ment for that exhibit."
Richard Edwords of Kamps Propane, a Chamber Ambas­sador, was talking about how his son's project to save bees, el­ephants and villagers in Africa was being telecast the same eve­ning in this area.
Good food, drinks and an op­portunity drawing were includ­ed in the event. Admission was free to Chamber members who reserved space in advance.
For more information about the Chamber's mixers, held on the third Thursday evening of every month, and Chamber membership, call (619) 445- 2722, visit              www.alpinecham­ber.com or e-mail lorib@alpin­echamber.com.