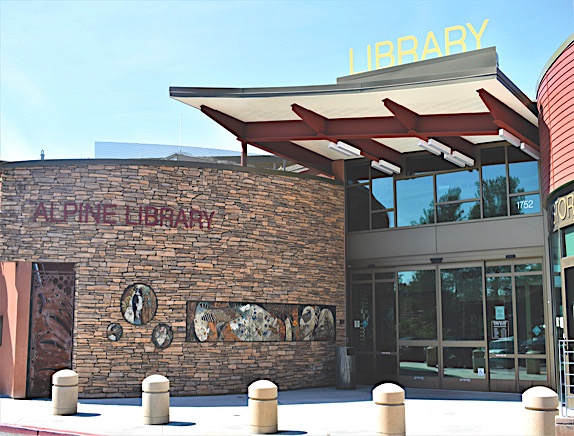 The Alpine library has some unique events planned for Spring, including some hands-on learning that would not have been possible just one year ago with physical distancing due to the COVID-19 pandemic.
Two different programs are being offered on March 15: the relaunch of the Mystery and Thriller Book Group and the launch of a three-month long Book-opoly contest.
Officially titled Better Read than Dead, the Alpine mystery and thriller book club features a new title each month that can be checked out as a traditional read, an ebook or a digital audiobook from the library.
This month, the club will be reading Thin Ice by Paige Shelton and discus­sion will take place from 5:30-6:30 on March 15 at the Alpine library.
"This is a book discussion group for fans of the mystery and thriller genres. We would love for anyone that enjoys a good detective story or tense psychologi­cal thriller to come and share their thoughts on the month's selection," Library Learning, Marketing and Engagement Manager Guido Oliva said.
The library's Book-opoly game is also kicking off on March 15. Designed to encourage reading, the game is open to all ages. Participants can pick up a game board at the library which resembles the traditional Monopoly game and challenges readers to take on tasks like reading a book that takes place in the future, or listen to an audiobook.
For every category readers complete, Oliva said, they'll receive a Book Buck coupon, redeemable at the Alpine Library Friends bookstore, as well as entry into the Grand Prize drawing. You can pick up a game board at the Alpine Library starting March 15. A three-part series, Support Global Worming: Family Fun Composting is being presented by the Solana Center at the Al­pine library. Oliva said repre­sentatives from the non-profit organization will teach attend­ees how to use worms to com­post food scraps and will walk residents through building a worm bin and raising worms for compost, and how that compost can be utilized in gardening.
The vermicomposting series includes a March 22 Let's Build a Worm Bin! Session, a March 29 Making Your Worms Feel at Home session and an April 5 From Bin to Bed session, all held at the Alpine library from 3:30 to 4:30 p.m.
Families will get a free caddy to use for kitchen scraps to more easily transport food waste to their new compost bin. Visit solanacenter.org for more infor­mation on the event.
Pre-registration is required for the Support Global Worm­ing program, available on the county library website at www. sdcl.org
On March 29 at 5:30 p.m., the Alpine library will host their latest Quarterly Classics event featuring Jules Verne's Around the World in 80 Days.
Historian and author James Keeline, former editor of the North American Jules Verne Society's newsletter will be speaking to residents about the futuristic novelist. In addition to sharing early edition copies of Verne's writings, Keeline will al­so host a trivia game on Verne.
The library is located at 1752 Alpine Blvd and is open Monday through Friday from 10 a.m. to 4 p.m.
Visit www.sdcl.org/alpine for more information on these and other programs.