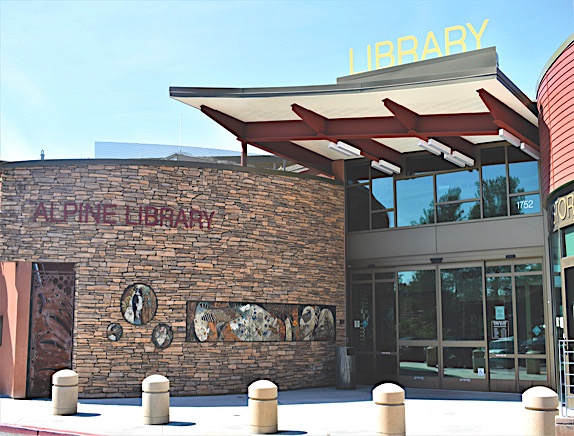 For families with students who are back in school, Library staff wish you a fun and successful school year, and we are here to support you! We can help you find books and information on any topic. We also have an array of vetted online resources, to help with homework, including live tutoring services! Go to sdcl.org/resources/ homework/
Come visit us on Tuesdays after school. Check out "Flight School, After School" on September 12 at 4 p.m. United States Naval Aviators offer a flight-themed storytime, and will share information about aircraft, gear, operations, and missions. On September 5 and 19 between 4 – 5 p.m., take your turn reading aloud to a certified therapy dog at Paws for Reading. Dogs are the best audience! On September 26, between 4 – 6 p.m. get a temporary glitter tattoo, courtesy of Natasha Papousek from Crescent Moon Designs.
For younger kids this month we have a special "3 Little Pigs in Space Storytime," presented by the San Diego Air & Space Museum. Join the piglets as they set off into space, and construct a habitat that will help them survive the wolf shaped meteor!
On Saturday, September 30 at 10 a.m. Dr. Neil Farber, NASA Ambassador and San Diego Air & Space Museum docent, will explain the science behind the upcoming solar eclipse. Attendees will receive free eclipse glasses to use on October 14, while supplies last. Bring the whole family!
For older adults, the instantly popular Feeling Fit Club continues every Friday from 2 – 3 p.m. Also for this age group, we are offering a free digital skills class, sponsored by SANDAG, that includes topics such as internet safety, online communication, social media, email, video calls, and more. This class is on Saturday, September 23, 10:30 a.m. – 4:30 p.m. (with breaks). Register by calling 619-363-2693.
The Alpine Library Friends Association (ALFA) is sponsoring a San Diego Oasis program on Saturday, September 16 at 10:30 a.m.; Music of the Wild West, a wonderful hour of cowboy songs, outlaw ballads, and tunes from the rails.
ALFA supports the library in so many ways, and you can contribute too, by donating items at an upcoming Drive-Thru Book Collection event! Give books, DVDs and CDs in good condition. ALFA volunteers will accept your donations on Saturday, September 9, 8 a.m. – noon and Monday, September 11, 4 – 7 p.m. They will not be able to take encyclopedias, magazines or textbooks.
We have many additional fun events happening in September. Visit the events calendar for a complete schedule: sdcl. org/alpine.
Susan del Castillo is Librarian II, Branch Manager of Alpine Branch Library.