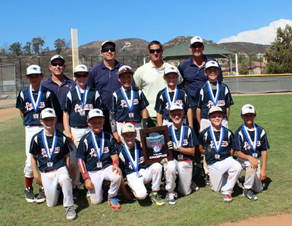 Alpine Patriots Are Labor Day Champions!

Alpine Patriots Are Labor Day Champions!
The Alpine Patriots baseball club won the championship game in the San Diego Labor Day Classic tournament hosted by Triple Crown Sports in San Marcos on September 5-7th in San Marcos. The Patriots were undefeated in the six games of tournament play beating teams from the San Diego and LA areas. This victory qualifies them for the 12th Annual Christmas Qualifier tournament in San Diego to be held in December and provides free admission to the tournament for the team. The Alpine Patriots is a non-profit travel baseball club made up of twelve boys mostly from East County, with five players being from Alpine as well as Manager Brian Sos, Coach Roy Hartnett, and Coach Bill Smale.