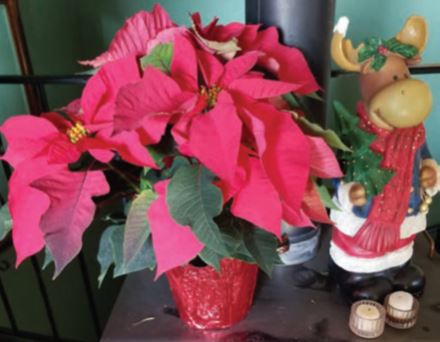 The Alpine Soroptimists are taking poinsettia pre-orders for their annual fundraiser.
As in past years, proceeds from the poinsettia sales will go directly toward the community organization's Live Your Dream financial awards, part of the bigger Soroptimist Dreams program.
Soroptimists International is a global volunteer organization that economically empowers women and girls by providing access to education.
The local branch, Soroptimist International of Alpine is dedicated to Improving the lives of women and girls through programs leading to social and economic empowerment.
Each year, the local group gives cash through the Live Your Dream awards to female heads of households who have overcome obstacles and are trying to get their lives back on track. Ideally, the cash awards are timed so women can pay for spring college courses, or take on life-altering projects in the New Year.
"We purposely seek out women who are building a better life for themselves and their families through education and skills training," Soroptimist Patty Tweed said.
Many of the women who receive the awards live in poverty, Tweed said, and have been challenged with surviving violence, addiction, health issues, the death of a spouse or parent, and faced challenging mental health conditions.
Sadly, Tweed said, this is the second year the Soroptimists has been unable to host their annual bunco fundraising events, which typically bring in the majority of the dollars they later award women in need.
"It is even more important that we reach out for support and we hope people will order the poinsettias as they did last year. Last year, we were able to give local women over $4000.00 in cash awards thanks to our community," Tweed said.
Residents who don't decorate their own home for the winter holidays can use the plants as gifts, she said.
"They're beautiful, vibrant and an easy way to get your home or business ready for the holiday season," Tweed said, and come ready for display with a pot cover and holiday ribbon.
The poinsettias, grown in Gilroy, CA can be ordered directly through Tweed at: pattyweed@gmail.com or in person at Alpine Postal Annex, located at 2710 Alpine Blvd. The plants can also be ordered on Facebook at: @SoroptimistInternationalAlpine for a $20 donation.
The plants will be available for pick up on Dec. 3-4 between 9 a.m. and 12 p.m. at the Alpine Community Center.