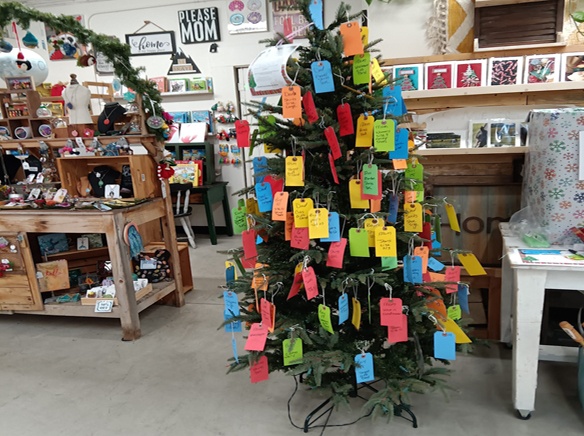 Helping Hands organizer April Chillura and Junktion 101 store owner Alexis Cazimero are trying to gather the last handful of presents tagged on the wish tree for this year's Alpine Angels Christmas project.
Now in its second year, the project solicits donations based on what struggling Alpine residents chosen in advance said they most want and need tagged on a wish tree. Junktion 101 serves as a sort of headquarters for the community project with donation bins on hand where residents can drop off items.
"I learned a lot from last year— this year I had people nominate families or individuals they thought needed help and then I vetted out their situation. We chose 14 families and three senior citizens who have no family.
The tree has been up since Nov. 13 and there are still tags left for families but all of the senior citizens were adopted before I even put the tree up," Chillura said. A few of this year's selected families, Chillura said, were on the giving end last year.
"We have families this year who actually helped us last year and now they're struggling. Everything comes full circle and you can lose it all in just a minute with one major life event," Chillura said.
Apart from collecting specific items for Alpiners, the Alpine Angels are also gathering non-specific donations for East County Transitional Living Center in El Cajon as well as two orphanages in Mexico.
The best part of the project, Chillura said, is watching kids' reactions when they get a Christmas, regardless of their situation. As a mother and grandmother, Chillura said she knows the relief a parent feels at knowing their kids will have presents.
Cazimero also runs a food pantry for some Alpine and Lakeside residents year-round; Chillura, who works as an Uber, Lyft and personal driver delivers the food to anyone who cannot get around.
"Many people are scared to ask for help, often because they're scared to lose their kids," Chillura said.
The wish tags on the Christmas tree and the items people asked for are heartbreaking, Chillura said, usually selfless.
"One of the little boys asked for cat toys for his cat. There are people who have so much and here's this kid who isn't asking for something for himself, he's asking to help his cat. I also have a single mom with seven kids who left an abusive situation asking for cleaning supplies. Cleaning supplies— that's when you realize who really needs help," Chillura said.
Jokingly, she said she told a few parents she wouldn't put the items they wished their children could have on the tree unless they included something for themselves.
"One dad asked for work boots and pants. It chokes me up because this is a father who isn't asking for anything special, he just wants to get to work. That's a big deal," Cazimero said. The Alpine Angels are also collecting gift cards to grocery stores which don't expire.
"People have been so fantastic about giving grocery store gift cards which is so helpful because food insecurity can be challenging: maybe somebody donates food but is it what your family needs? Do you have an allergy? Say someone donates a big turkey: where is someone going to cook that turkey if they don't have access to a large stove or they live in their car? I know people don't always like to give gift cards because they perceive there's no thought in it but they're extremely helpful," Cazimero said, especially for people who have a food allergy or special needs.
Cazimero and Chillura recognize some people might want to help but cannot afford any of the presents on the tree.
"I tell customers who want to contribute but don't have much extra to spend: buy socks. Think about how great you feel with a new pair of clean socks," Cazimero said.
Residents can also volunteer to wrap the gifts, including older kids and teens.
"If teens want to volunteer to wrap presents or volunteer at the food pantry in Lakeside they can do so. About 90% of the people we give food to are senior citizens and it's wonderful to get teens involved in handing out food," Cazimero said.
Chillura has also put out a call for gift cards, wrapping paper and scotch tape along with a request for volunteer help to wrap all the donations.
Junktion 101 is located at 2249 Alpine Blvd.