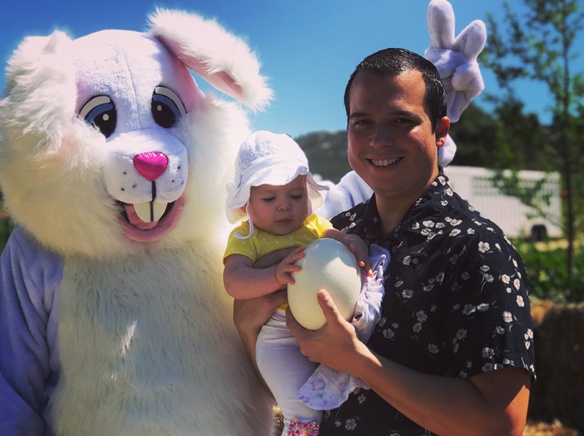 The Children's Nature Retreat in Al­pine has expanded their annual Easter egg hunt to eight different egg hunts held over four days this year.
Retreat Executive Director Agnes Barrelet said organizers have rede­signed the entire event for this year so as many local children as possible can participate in the annual tradition while remaining physically distant to slow the spread of COVID-19.
For example, attendees can start hunting for eggs as soon as they are handed a basket by the Easter Bunny, who will be there for all eight hunts rather than gathering attendees in one location with a formalized starting point.
"We have over 3,000 eggs ready to go. We've never done such a big event this way but having people able to start hunting as soon as they're given their basket is a way to help with the distanc­ing. Each kid can find ten eggs so it is fair for everyone," Barrelet said.
The human-sized Easter Bunny will be walking around the grounds and available for photos, as well as the ac­tual bunnies and rabbits who live at the retreat year-round.
Barrelet said this event marks some­thing of a post-COVID return to life for the facility, that is home to more than 140 domesticated livestock and exotic animals from around the world.
Although they were able to hold a Christmas tree lighting festival, Barrelet said this is the biggest event they've been able to hold since the pandemic arrived in San Diego county.
"We have the flowers blooming in our orchard, we have the baby bunnies. The animals are happy, the sun is out— we see life coming back to the retreat," Barrelet said.
This year, the event is especially symbolic, she said as the large white rabbit she found on the road one year on Easter who was later named for the holiday, recently passed away.
"Really, looking back, we were closed for the Valley fire and we almost shut down entirely twice last year but we managed to sur­vive thanks to the community. If we survived 2020, we can survive anything," Barrelet said.
Currently, COVID-19 safety mea­sures at the facility include reser­vations by appointment only that are limited to approximately 100 guests per day. Guests are required to wear masks at the entrance and within six feet of anyone outside of their household, although they are able to roam the outdoor property without masks.
Bathrooms and picnic tables will be open but guests are asked to sanitize the tables before they are used with supplies from on-site dis­infectant stations.
Single day admission is $38 for adults and $20 for children over two; discounts are available for seniors, Alpine residents, military veterans and first responders. Parking is free.
The $10 egg hunt participation fee includes a basket to use in the egg hunt, filled with mini plush toys, finger puppets, toys and can­dy.
To attend an egg hunt and reg­ister to visit the Retreat, visit www. childrensnatureretreat.org or call (619) 320-4942.