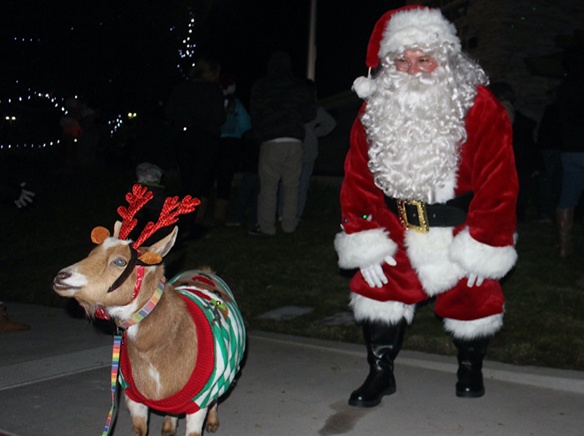 On Dec. 19, the Alpine Chamber of Commerce pulled off the first community Christmas tree lighting since 2018 with a new take on the annual event after two years of staying dark through the COVID-19 pandemic.
This year, the chamber held the tree lighting at the large pine outside the Alpine Fire Protection District station on Tavern Road.
Firefighter/Paramedic Jason Smith greeted young children with the offer of hot chocolate while parents were able to enjoy a cup of coffee with a sweet treat outside the station. Goatoga goats Ricky and Lucy, usually employed at goat yoga classes, stood in as 'reindeer' for the evening, antlers firmly worn atop their heads as they delighted families in the small crowd of about 150 attendees.
Members of Christ the King church sang carols from the steps outside the station, inviting residents to join them in song with a box of carol books available for anyone who might need a reminder on the lyrics.
Singers Louise Thompson and Karen Donahue, and pianist William Young encouraged everyone to join in with basic tunes like Frosty the Snowman, buying time until Santa Claus arrived at the station.
Vamping a bit, Thompson extended 'Santa Claus is Coming to Town' to line up with the fire truck that pulled into the station to fanfare and parents pointing out Santa Claus riding in the back of the truck.
Claus dismounted from the red, shiny truck and waved to young children who approached him from the sidewalk, holding back a little for the younger ones who weren't quite sure what to make of the man in the red suit. H
eckling Santa and playing to the crowd, Thompson catcalled compliments to Claus from in front of the station, complimenting his nice suit and asking whether there is a Mrs. Claus in town. With grown ups giggling, the big guy made his way to an elegant chair set up at the entrance to the station where photos were taken as holiday keepsakes.
After they wrapped up the community caroling session, Thompson said the group of singers was there because community leader Louise Phipps, who serves as Senior Warden at Christ the King, coordinated to ensure there would be music and singing at the tree lighting.
Alpine Chamber of Commerce Board Member and Postal Annex owner Rose Signore said she felt the event was "much better and much more lively" for being held at the fire station instead of its previous location outside the old Town Hall building on Alpine Boulevard.
In the weeks leading up to the tree lighting, Chamber volunteers had attempted to revive the Alpine Christmas Parade but were not able to coordinate the event this year and the tree lighting serves as their sole 2021 holiday happening.
"I definitely think we're going to build on this for next year," Signore said, looking around the event.