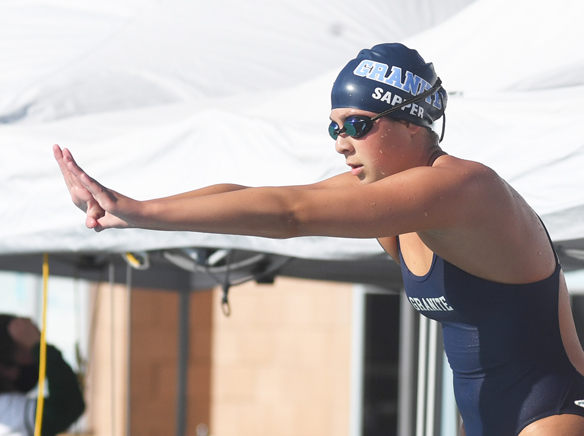 The San Diego Section held its first championship event in 14 months last weekend as the Divi­sion I and Division II swim and dive finals unfolded in front in front of an appreciative gathering of par­ents at Granite Hills High School.
While social distancing protocols were still in effect and no medals were awarded on site, the general mood from spectators and partici­pants alike was one of appreciation.
The CIF finals had originally been cancelled on March 26 but were reinstated on April 15 after clearance from San Diego County officials. It was a hectic week of preparation to launch a somewhat scaled-down event. Instead of 32 entries per event, the final pro­posal that passed county scrutiny reduced the field to 24 entries per event.
Regardless of the size of the event (it was still large), it was defi­nitely a day to celebrate.
Section officials noted last week­end's San Diego CIF championship event was the first section finals event held in the state so far this spring.
"Every team said they were so excited to compete," Granite Hills coach Cathy Elgas said. "Coaches and swimmers said what a great way to end the season. The swim­mers needed this. Most teams in the county did not have a league championship, so this made the season extra special. In East Coun­ty we had a league championship, so this was just an extension of a great season. We cannot thank CIF enough for not giving up."
It was a record-breaking week­end with five section records set over the two days (Division II finals last Friday and Division II finals the following day), and a slew of league and school records rewrit­ten.
Granite Hills, buoyed by the top girls swim team in East County, fell short of winning the Division I team title but the Eagles still left a few droppings on the competition.
Junior Erin Kluge set a new school record time of 58.35 sec­onds in placing runner-up in the girls 100-yard backstroke.
Following that she joined forces with freshman Brooke McCoy, sophomore Izzy Cox and sopho­more Chloe Morgan to set a new school record in placing second in the girls 4×100 freestyle relay in 3:39.85.
Sophomore Aidan Keane set a new school record in placing third in the boys 100 backstroke finals in 53.04.
Senior Rachel Sapper touched third in the girls 100 breaststroke finals in 1:07.19 behind Eastlake ju­nior Emily Lundgren (first in a new section record 1:00.96) and Poway freshman Ashlyn Hernandez (sec­ond in 1:03.21).
Granite Hills set a league record in winning the girls 4×50 medley relay in 1:48.53 at the Grossmont Hills League finals on April 16. The Eagles settled for third place at the Division I finals in 1:50.03 behind event winner Torrey Pines (1:46.53) and runner-up Del Norte (1:49.97).
The Eagles' medley unit consists of McCoy, Sapper, Kluge and Cox.
Additionally, Kluge finished fifth in the girls 100 butterfly finals while Keane finished sixth in the boys 200 IM finals.
In consolation heats (placers seventh through 12th):
Cox sped to a win in the 100 free­style (54.18) while placing third in the 50 freestyle.
Sapper won the 200 IM consola­tion heat.
Other consolation heat partici­pants included McCoy in the 50 freestyle and 100 freestyle, junior Cavan Cox the boys 500 freestyle and freshman Braden Felio in the boys 100 freestyle and 200 free­style.
The Granite Hills team of Keane, senior Andrew Stinnett, Felio and sophomore Riley Thompson com­peted in the 4×50 medley relay con­solation finals while the girls unit of sophomore Olivia Sapper, Ra­chel Sapper, Morgan and freshman Delaney Fry competed in the 4×50 freestyle relay consolation finals.
The Granite Hills quartet of ju­nior Lucas Johnson, sophomore Vaughan Clark, Stinnett and Ca­van Cox qualified to compete in the boys consolation 4×50 freestyle re­lay event as did the Eagles unit of Keane, Cavan Cox, Thompson and Felio in the boys consolation 4×100 freestyle relay event.