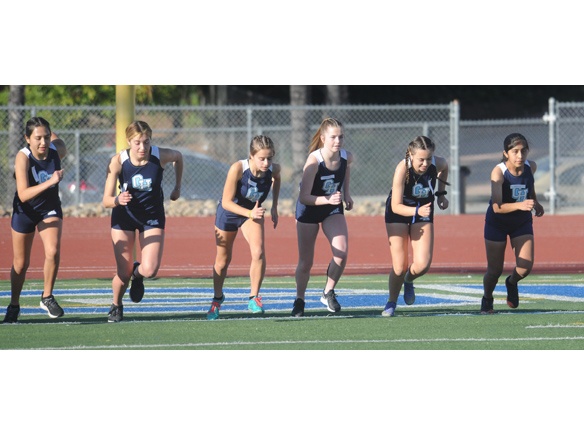 Numbers are down during the cross country season. There's no question about it.
Part of the decrease in partici­pation has been due to protocols mandated by state and local health officials to ensure a safe environment in which to com­pete. Much of the decrease, how­ever, has been due to the lack of regular in-person attendance in schools.
Until high schools across the region open up fully, not all stu­dents will be able to partake of the social amenities offered by clubs and on-campus athletics.
"It's unfortunate that we can­not reach all of the student body yet," Granite Hills cross country coach Walter Bueno ex­plained. "The lack of attendance is a problem. It's been rough all around for all the sports."
The Grossmont Hills League dual meet between the Eagles and visiting West Hills Wolf Pack on Feb. 26 set the tone. West Hills did not have enough runners to score in either the girls varsity or girls junior varsi­ty duals. There weren't enough runners on either team to score in the boys JV contest.
The boys varsity matchup featured 13 runners — six from West Hills and seven from Gran­ite Hills. It takes five runners to score in a meet.
The Wolf Pack placed six of the first seven runners to win 18-41 to improve to 2-1 on the sea­son while the Eagles fell to 1-2.
Granite Hills placed four of the top five runners in the girls varsity dual, though the out­come was already decided be­fore the race started due to the lack a fifth scorer on West Hills.
"It's unfortunate they didn't have more people or a full squad but we're fortunate to have what we have," Bueno said. "This is the first year we've had a course on campus. The kids are still getting used to it."
Both genders ran in the same race — one for varsity and one for JV — rather than having four different races. It helped com­press the time element.
The boys varsity race fea­tured a tight pack for half of the 2.3-mile distance, with four of the top six runners from West Hills.
Wolf Pack senior Landon Morales just missed setting a course record with his winning time of 13:00.2. West Hills junior Mark McCowin finished second in 13:13.3 while Eagle junior Mel De Alba-Ruiz was third in 13:15.
The Wolf Pack placed the next four runners across the finish line while Granite Hills placed the next six runners to round out the race.
The Eagles' five scorers also included juniors Taylor Ham (eighth, 14:23.8), Jonatan Esc­obedo (ninth, 14:29.4) and Alex­ander Cantrell (10th, 14:29.8) as well as freshman Sergio Cruz (11th, 14:42.5).
"Halfway through there was one pack," Bueno said. "No one seemed to want it. West Hills played that one very strategi­cally."
In the girls varsity race, West Hills senior Angelica Emlund (15:53.9) had a 60-yard lead mid­way through the 2.3-mile race but could not maintain the lead as Granite Hills freshman Karli Howard (15:49.5) engineered a spirited comeback to win by four seconds.
Sophomore Kelly Ca h i l l finished third in 16:09.8 while classmates Al exa Hernan­dez (16:11.8) and Emma Nixon (16:16.9) followed in fourth and fifth place to bolster the hosts.
Granite Hills finished the race with seven of the top 10 finishers. Sophomore Savannah Barre placed eighth in 17:28, fol­lowed by junior Marissa Cruz (ninth, 17:30.9) and senior Ava Guerra (10th, 17:43.7).
Granite Hills junior Alyssa Martinez (18:49.1) posted the winning time in the five-deep girls JV race (all Eagles).
Granite Hills swept both the boys and girls varsity duals the previous week against visiting Helix. The girls won by a score of 17-42 while the boys came out on top 23-34.
Howard (16:06.8), Ca h i l l (16:16.3), Hernandez (16:25.6) and Nixon (16:29.8) paced the 14-deep girls field while fresh­man Colin Guffey (12:38.3) and De Alba-Ruiz (13:08.6) topped the 14-deep boys field for the Eagles.
Granite Hills placed six in the top 10 in both races.