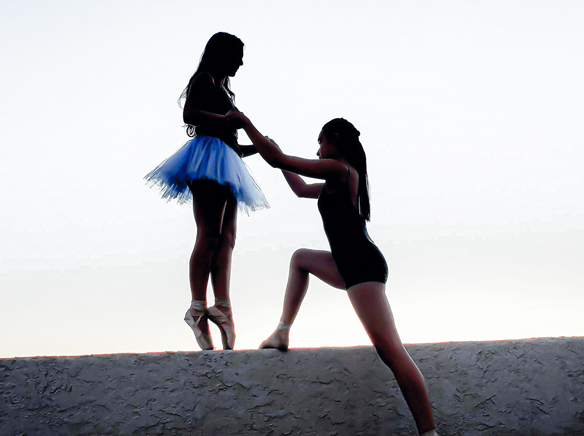 Students across the county were sent home on March 13, 2020 to physically distance from the COVID-19 pandemic; many still have not entirely returned to campuses and sports are in their reopening infancy with modifications and shortened seasons in place for the duration of this year.
Local choreographer Kasey Viani, who owns Viani's Performing Arts Academy was teaching class when the order to begin distance learning was issued and said she was "aware of my students mental health and knew the high school dance and choir program was kind of their lifeline" and almost immediately began channeling student emotions into a short film.
"Before the shutdowns, I'd have students who knew they had a safe space in my office. Dance was their refuge. When COVID shut down the world, I started developing this dance solo in my head to depict what happened, how their mental health was affected," Viani said.
Performers, she said, have been trained to balance and blend with each other artistically, something she says was impossible to recreate through a computer screen.
"These kids are used to dancing in a big room with all their energy, trying new challenging steps and all of a sudden they had two feet by two feet in their bedroom and we're asking them to stay positive? I have students who have self-harmed and every day is a chal­lenge with their mental health. I reached out to some of my danc­ers and started asking how things were going. The impact was gi­gantic so I pieced it together as a storyline," Viani said.
A good deal of inspiration, she said came from one of her stu­dents who has a seven-by-ten foot room with bulky furniture who had training setbacks with no in-person instruction and had to ac­knowledge that showing off her skills would require gatherings that might spread a pandemic.
She created a short plot about sisters who have danced all their lives, featuring local students Mi­kayla Browne and Miranda Ban­uet to illustrate the struggle felt by young performers all over the nation as stages went dark; physi­cally filming the footage gave her students a chance to keep danc­ing— on film instead of on a stage— and has now been entered in film festival contests all over the world.
The choreographer and teacher said it is her first time directing and found a unique experience in sitting down to edit what had been filmed, realizing she could see the dancing unfold in front of her over and over again rather than expe­riencing live performances as a one-time show, and had the power to shape the final product.
"I cut it at least 1,000 times and even my husband couldn't watch it anymore but I wanted to make it flow better. I wanted it to be artis­tic enough for dance eyes but be more literal for the general public. Going through the editing process was hard but now it's relatable," Viani said.
Accepting she wasn't filming for YouTube and needed to honor the project and come to the table to make something more significant was massive, she said.
"The technical side— my gosh it was hard. I've been a dancer, a choreographer, a teacher and here I had to research aspect ratio, frames per second. I don't usually do such technical work and I was working on Final Cut, Lightroom, Photoshop, iMovie, navigating be­tween all four programs at once… I had to tell myself to stop editing," Viani said.
Best-selling composer Michelle McLaughlin granted permission to use her music for the project, Viani said, "and I'm so grateful be­cause the film would not have this heart and soul without her music". She is now waiting to hear back from film festival coordinators to "hopefully put this message out across the world" and draw more attention to mental health set­backs in performing artists kept home for over a year.
"The film festival world is pretty competitive but I'm going into it with optimism and you know, in the performing arts we're trained to find the silver lining and I know something good is coming from all this," Viani said.