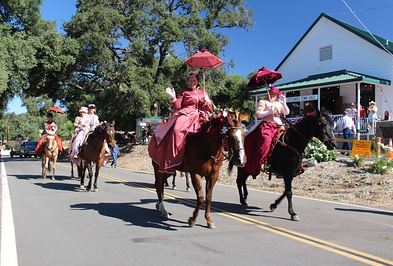 The Descanso Days community event held recently had all the mark­ings of a small-town gathering that could have taken place a century ago: country line dancing, historically-dressed ladies and gentlemen riding through the event on horseback, homemade peach cobbler baked from a 50-year old recipe being sold at the town hall.
The event, held to help fund repairs on the circa-1898 town hall, bore some signs that it was the first major event held in the back country since the start of the pandemic. Organizer Susan Kyle Lancaster said there were some unfortunate decisions to be made, such as not being able to include local high school marching bands or host the usual large parade as in years' past but many elements were able to be modified and ultimately the event was a success.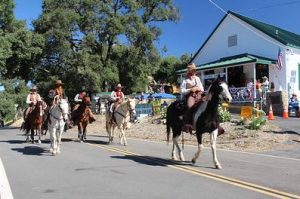 A small handful of groups were able to promenade past the town hall, even without the usual large parade, thanks to Corinne Lewis, who typi­cally organizes the Pine Valley parade, inviting a few groups to the event. The Cameron Highlanders Pipe Band, the oldest continuing performing pipe band in California marched through the event to applause from families gathered near the town hall. Also on hand: the Hole in the Wall Gang, a non-profit dedicated to preserving the history of the American wild west along with the Victorian Roses Ladies Riding Society, as well as more modern guests like Smokey the Bear riding through town on a CalFire truck and waving to young children along the way.
"It was unfortunate that we couldn't have any high school marching bands play. I talked with band leaders at high schools who said they haven't seen some of their students in person in over a year but there were still so many fun events in­volving kids," Lancaster said.
Laughing, she said that Pine Val­ley Middle School principal Gary Brannon, who had signed on to sit in the dunk tank for an hour, ended up sticking around twice as long, "getting absolutely soaked and being such a good sport about it" while kids and former students took a turn at hitting the target to send him down into the water.
"It was a very hand-picked event, we tried to stay with local mountain people which allowed us to have a bit more control, which made it so family oriented and upbeat and fun. A lot of the gentlemen were out playing horseshoes and the kids' games were old-fashioned with penny-in-a-dish, a beanbag toss, so everyone had something to do," Lancaster said.
with a $5 play-all-day wristband keeping kids engaged throughout the event.
At its core, the event is designed to raise funds and help bring the historic town hall up to code, Lan­caster said, part of an ongoing ren­ovation intended to transform the old building into an event center of sorts.