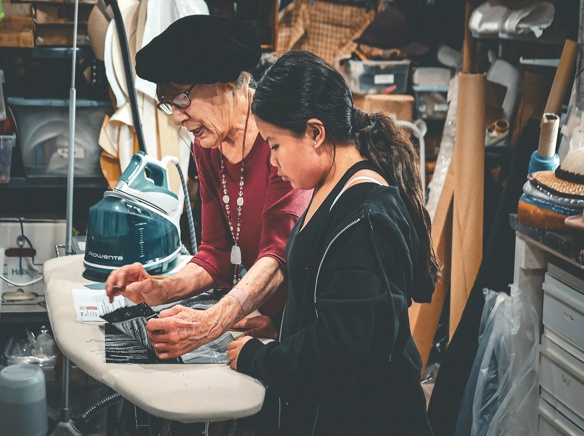 Alpine resident Diana Cavagnaro is a milliner, creating artistic creations that can be worn on your head. Her couture hat designs include fascinators, couture hats, berets, bridal headwear and more. She not only creates these one-of-a-kind head pieces, but also teaches fashion at Mesa College and offers classes and workshops in her Alpine studio. Cavagnaro recently started a new project, teaching youth the fundamentals of sewing. Just finishing the first of her three classes she is offering this summer, she is hoping to get more youth in her studio, introducing them to the art of sewing.
"This is my first time holding the Alpine Sewing Camp," she said. "There are not a lot of things for teenagers to do out there, a lot of camps during the summer. So, my first camp was Girl Scouts from North Park Troop 4906. The troop leader was Carmen Asnani. She had heard a lot about me. I am in the American Sewing Guild, so she called me and asked me if I could put this together because there was a huge need for it. Being that I have been teaching sewing and hat making at Mesa College for over 20 years, I know there is a huge need for it because they used to teach sewing in high school. In the beginning most of the students that came to me knew how to sew and now that is reversed because there is now no sewing in the high schools. Students that are now coming do not even know how to thread a needle."
Cavagnaro said she was excited to start a sewing camp for teenage girls (and boys) so that they can start learning the craft.
"If we want future hat makers and couture sewists, we need to start teaching them a bit younger," she said. "I put this together with Donna Bell Buban. The two of us worked together to create five different days from 10 a.m. to 12:30 p.m. Each day they had a project to do."
Cavagnaro said the first day, she started by showing the girls how to maintain sewing machines. Removing lint, oiling the machines, how to wind and thread the bobbins. Then the girls moved on to learn how to make straight and zigzag stitches, back stitches, finishing a seam, learning how to pivot and turn corners.
"I taught them about sewing tools such as pins, fabric markers, sewing shears, and needles and thread," she said. "We started out the first day making scrunchies where they learn how to use elastic, how to cut with scissors, and do markings. The next day, we had them sew nice squares together to show them how to do quilting and they made a pillow out of it. Quilting is a huge hobby for people who sew. Hopefully, I got some of them interested in quilting as they get better with their sewing skills."
Next the girls made reversible tote bags, were able to go to a fabric store and pick their own fabrics that fit their personality, said Cavagnaro. She said the girls were extremely excited about that project.
In her class, the youngest was 11 years old, whose grandmother was a couture wedding gown designer. She said the class is open for youth 9-15 years old.
On the fourth day, the girls made half aprons, learning how to do gathering. The last day the girls created skirts or beach coverups, learning to use elastic on a bigger project.
"The first week and second week of August I have sewing camps scheduled," she said. "Aug. 7 through Aug. 11, and Aug. 14 to Aug. 18. I have a 900 square foot studio in the back of my house here in Alpine and that is where we hold the camp. And we have air conditioning. It has been so hot lately."
"We are trying something new here that I believe there is a big demand for," Cavagnaro continued. "They just enjoyed themselves so much. I think it is extremely important for youth to learn these skills. It makes them more independent as they do not have to rely on anyone else. They can sew up button on, mend a tear in their jeans, hem a skirt or dress if it is too long."
Cavagnaro said she learned to sew at an early age with a dress she made for her doll when she was 6. She said she learned more about sewing in school through 4H.
Cavagnaro said that she plans to continue the sewing camps, and that her first group has already asked her to teach them more, so she is going to set up a "higher level" camp. And since it is her specialty, she would like to create a hat making camp. She said that she hopes that more girl scout troops will join in but said that the camp is not only for girls. She would like to see boys learning the craft and would even like to see boy scouts join the camps.
"I am happy to make future camps and classes if there is a need for it," she said.
The five-day Summer Sewing Camp is scheduled for Aug. 7-11, and Aug. 14-18, from 10:30 a.m. – 12:30 p.m. at Cavagnaro's studio located at 1319 Grade Road, Alpine. Call 619-239-4287 for more information.
To learn more about Cavagnaro, visit www.dianacavagnaro. com.