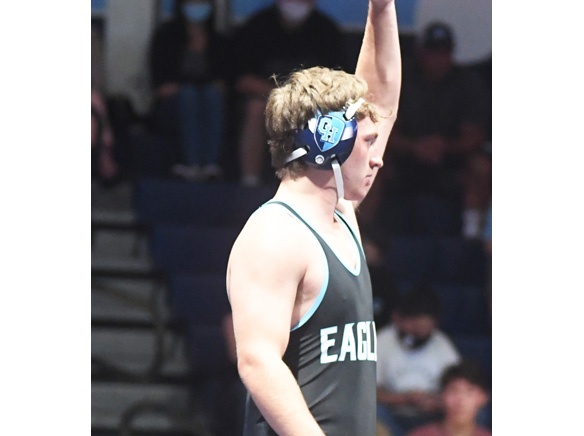 It was a memorable season for the five seniors — and every­body else — on the Granite Hills High School wrestling team during the recently completed 2020-21 season.
Coed competition continued through the conference finals before separating into girls (May 22) and boys (May 29) di­visional championship tourna­ments.
Senior Kailey Smith won her 103-pound weight class as the Eagles' lone representative at the single-division girls tourna­ment at Santana High School.
She showed her dominance by pinning all three of her oppo­nents in the first period to walk off the mat with the individual weight class championship.
In all, Smith finished her highly decorated Granite Hills career as four-year varsity let­ter-winner, CIF champion, Mas­ters champion and state quali­fier.
"Kailey has locked down our 106-pound weight class the last four years," Eagles head coach Jesse Sheard said. "Her dedica­tion to getting better and win­ning is what made her so tough."
The Granite Hills class of 2021 included three four-year letter-winners. Joining Smith at the top of the team's honor roll were fellow seniors Justin Car­roll and Joel Corella.
All three grapplers finished as Grossmont Conference cham­pions at the league finals held May 15 at Granite Hills High School.
Additionally, both Carroll (138 pounds) and Corella (152 pounds) finished runner-up in their weight classes as the Eagles soared to a runner-up finish at this year's Division II finals held at San Pasqual High School.
Carroll finished his high school wrestling career as a Holtville Invitational champion and CIF runner-up.
He won the 145-pound title at this year's conference tourna­ment with a 59-second pin. He opened the division finals with a pair of first-period pins (1:13 and 0:59), then tacked on an 11- 1 major decision in the semifi­nals to advance to the champi­onship round.
He dropped a 13-8 major deci­sion to Poway's Johnny Lopez in the gold medal match.
"Justin has been a great asset to our team the last four years," Sheard said. "He is a great kid who will be very successful in his life. We are definitely going to miss him."
Corella ended his high school career as a two-time CIF run­ner-up, Masters runner-up and 2020 state qualifier.
He won the 152-pound title at this year's conference tour­nament with a 16-2 major deci­sion. He won his opening three matches, including two by pins, to advance to the championship round at the division finals.
Corella lost by a 5:23 fall to Poway's Anthony Ching in the gold medal match.
"Joel has been a big part of our team's success," Sheard said. "He is always ready to work hard and do what needs to be done for the team. Joel has had a good run at Granite and will be missed."
Senior Izak Arredondo fin­ished his career as an Eagle as a three-year varsity letter-winner.
"Having Izak in the upper weights was always an advan­tage for us," Sheard said. "Izak was a hard worker who never gave up no matter the circum­stance."
Broc Ludeke, who also played on the school's football's team, finished his senior year with a 1-2 record at the division finals with a first-period pin while competing at 195 pounds.
"Broc was someone we could count on whenever we needed to fill a weight," Sheard said. "The majority of the time being undersized, Broc would give it his all and do what is best for the team."
Soaring Eagles
Granite Hills finished runner-up to Poway in the team stand­ings at the Division II boys championship tournament. The Titans, with a tourney best 328 points, won their 40th section title in program history while winning nine individual weight class titles.
The Eagles finished second in the 18-team field with 172.5 points to place ahead of Mt. Carmel (third place, 108 points), Bonita Vista (fourth place, 83 points) and Olympian (fifth place, 78.5 points).
Vista (sixth place, 76.5 points), San Pasqual (seventh place, 63 points), Grossmont (eighth place, 60 points), Es­condido (ninth place, 50 points) and Rancho Buena Vista (45.5 points) rounded out the top 10 teams.
Granite Hills advanced four wrestlers to the championship round, with sophomore Collin Guffey winning the 120-pound weight class with a 6-2 deci­sion over Poway's Paul Kelly.
Guffey finished 3-0 at the tournament with two pins.
Carroll and Corella joined heavyweight Logan Ransdell as runner-up finishers.
Ransdell finished second in his 285-pound heavyweight division following a loss by a 1:33 pin to Poway's Jami­kael Lytle. The Eagle mat man opened the tournament with pins of 1:47 and 4:13 to advance to the championship round.
Granite Hills had a total of nine wrestlers earn place-fin­ishes at the Division II finals.
Desean Floyd finished third in his 106-pound weight class with a 2-1 record that includ­ed a 27-second pin and 6-0 decision.
Camren Carmickle placed third in his 113-pound divi­sion with a 3-1 record that in­cluded an 18-12 decision, 19-4 technical fall and 2:39 pin.
Ian Brown finished third in his 132-pound weight class with a 4-1 record that included three pins. His only loss was a 17-2 technical fall to Poway's Andre Gonzales, the eventual weight class champion.
Zachary Waterhouse placed third in his 145-pound weight class with a 4-1 record af­ter battling back with four consecutive wins following a quarterfinal-round loss to eventual weight class champi­on Nolan Tolentino of Poway.
Carson Boehm placed third in his 170-pound weight class with a 3-1 record, including a win by 3:23 pin and 17-4 ma­jor decision.
Eight Eagles advanced as far as the championship semi­finals.