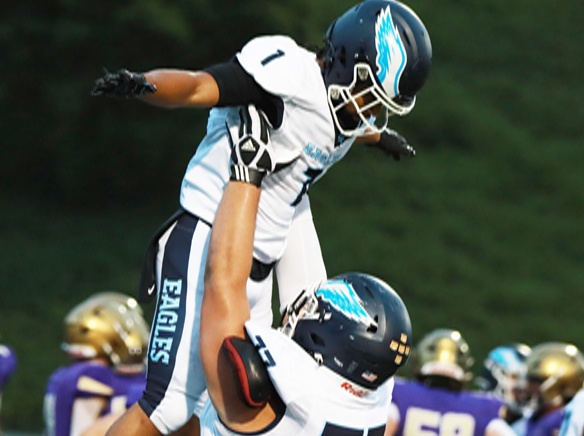 Three weeks into the current high school football season, the Mt. Miguel Matadors, Granite Hills Eagles, Santana Sultans, West Hills Wolf Pack, Helix Highlanders and El Capitan Vaqueros all seem to have winning down pat after sporting undefeated records to start the new season. The Matadors, Sultans, Wolf Pack, Highlanders and Vaqueros are all 3-0 while the Eagles are 2-0.
Mt. Miguel recorded its third consecutive blowout win by defeating the visiting Montgomery Aztecs, 40-0, in a Thursday night encounter on Aug. 31 while West Hills captured a low-scoring 7-3 affair over the host Vista Panthers in another Thursday night contest.
Santana (18-0 over the host Coronado Islanders), Granite Hills (24-21 over the St. Augustine Saints at Mesa College) and El Capitan (27-24 over the visiting La Jolla Vikings after trailing 21-0 at one point) all captured non-league encounters last Friday.
Helix remained undefeated after participating in Saturday's 10th annual Honor Bowl at Cathedral Catholic High School. The Highlanders tabled Red Mountain from Mesa, Ariz., by a score of 30-22 to emerge as the lone San Diego Section winner in the five-game weekend series in Del Mar.
Granite Hills' victory was likely the most dramatic as freshman quarterback Zachary Benitez connected with junior running back Max Turner on a six-yard, fourth-down touchdown pass with 21.5 seconds to play in regulation to give the Eagles their final margin of victory.
The Eagles entered the highprofile match-up ranked third in the section while the Saints were ranked eighth.
Granite Hills led, 7-0, after the first quarter and 14- 7 at halftime. St. Augustine narrowed the score to 17-14 through three quarters before the Saints went in front, 21- 17, prior to Benitez's eventual game-winning touchdown pass as freshman Honor Fa'alave- Johnson found senior Isaiah Hasten for a 10-yard scoring pass with 2:44 left on the clock.
After going up by three points, Granite Hills had to weather one last bid to send the game into overtime by the host Saints. But a 33-yard field goal attempt on the final play of the game by sophomore Sebastian Garcia sailed wide. Benitez passed for 209 yards in the game. The win was the 11th consecutive for the Eagles dating back to last season.
Freshman William Flores keyed St. Augustine with 123 rushing yards and one touchdown. The Saints were hampered early by the loss of sophomore quarterback Brady Palmer to an injury. Palmer had passed for 1,394 yards with 13 touchdowns as a freshman and had accumulated four touchdown passes in the opening two games of this season.
Granite Hills returns to the gridiron for a Sept. 8 non-league match-up at Eastlake High School where the host Titans (0- 3) will celebrate homecoming.
El Capitan's inspirational comeback win over the Vikings (2-1) also has to be considered of the heroic nature. Senior Julian May (121 total yards – 66 receiving, 55 rushing) scored his second four-yard touchdown of the game late in the fourth quarter to finally put the Vaqueros over the top after trailing 24-7 earlier in the game. May's game-winning TD came after the hosts had blocked a La Jolla punt.
Junior quarterback Brandt Barker passed for 242 yards and scored once on the ground while passing 45 yards to senior Chance LaChappa (six catches, 112 yards) to aid in the ferocious El Capitan comeback.
Senior Jackson Diehl had two passing touchdowns for La Jolla, which rolled up 429 total yards in offense in absorbing the non-league setback. The Vaqs tallied 361 yards in total offense on their side.
Mt. Miguel recorded its second consecutive shutout win as senior Caprece Pressley rushed for 134 yards and one touchdown and senior Davian McGowan collected 86 rushing yards and two scores. Senior Jeremiah Castillo also scored one rushing touchdown in the rout.
It was the Matadors' third consecutive win against a team from the Metro Conference to open the season.
The Mt. Miguel defense allowed just 126 yards – 54 rushing yards and 72 passing yards – while scooping up three fumbles and recording one interception.
Sophomore Kyler Oberg (four catches, 64 yards) reeled in a 49-yard touchdown to lead West Hills to the road win while junior signal-called Joseph Hamilton (team-high 41 rushing yards) completed eight of nine passes for 99 yards and the game's lone touchdown.
Senior running back Linden Benson (30 carries, 140 yards) scored once while senior quarterback Alex Rico threw for 112 yards and one touchdown for Santana, which received 92 yards on nine catches from senior Trent Taylor in the win.
This year's Honor Bowl featured five games that took place last Friday (two games) and Saturday (three games). The event, which has a Northern California counterpart, serves as a fund-raiser for wounded veterans.
The Highlanders were the lone San Diego-area team to post a victory in the elite field.