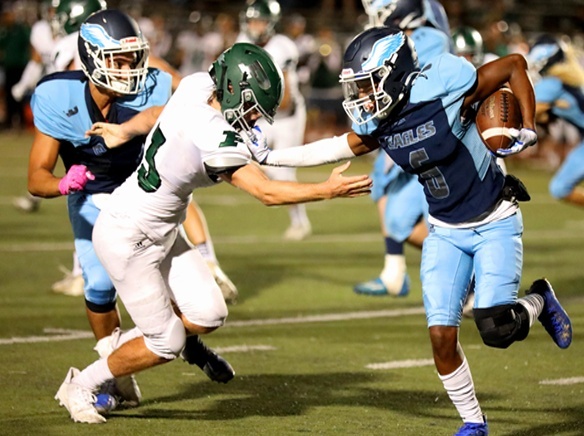 The Granite Hills High School football team is mathematically eliminated from winning this year's Grossmont Hills League championship, though the Eagles can still play the spoiler's role heading into their final regular season game Friday, Oct. 29, against the visiting Helix Highlanders.
Kick-off is 7 p.m.
Granite Hills defeated Helix, 35-21, during the spring 2021 season to notch a feat that hadn't been accomplished in a decade. Though no league champions in the Grossmont Conference were officially declared due to an unbalanced schedule resulting from the COVID-19 pandemic, the Eagles – with a 3-0 record against league foes – were the de facto Grossmont Hills League champions for the 2020-21 season.
That will not happen this fall after the Eagles kicked off league play with back-to-back losses to Grossmont (24-14 on Oct. 15) and Steele Canyon (21-20 on Oct. 22).
Helix will reign unopposed with a victory Friday at Granite Hills. But should the Eagles prevail, that opens the door for a league co-championship with either Steele Canyon or Grossmont, which also pair up on Friday.
Both Steele Canyon and Grossmont are 1-1 in league play.
Regardless of the outcome of Friday's games, all four Grossmont Hills League teams will qualify for the upcoming San Diego Section playoffs.
Helix entered this week No. 5 in the Division I power rankings while Grossmont is No. 10, Steele Canyon is No. 13 and Granite Hills is No. 14.
With regular season-ending wins, it's possible that Steele Canyon and Granite Hills could move up the rankings to earn home-field advantage in the opening round.
The CIF playoffs kick off Nov. 5 for teams in Division I through Division V and follow with quarterfinal-round elimination games on Nov. 12, semifinals on Nov. 19 and championship weekend Nov. 26-27 at Escondido High School.
Granite Hills' season has been up-and-down. The Eagles kicked off the season 2-0 but lost two games in a row before winning two games in a row. Last Friday's one-point loss at Steele Canyon was the team's third straight.
Steele Canyon received rushing touchdowns from junior running back Major Givens and senior quarterback Jacob Manzo and a 33-yard interception return for a touchdown by junior Adrien Chargualaf to spike the Eagles.
Granite Hills scored late in the game on a 16-yard run by senior Patrick Brady but missed the two-point conversion run in a bid to win the game.
The contest between neighborhood rivals was hotly contested right down to the final minute. The teams were tied at 7-7 at halftime and 14-14 though three quarters.
Hard-hitting defense was lights out for both teams. Junior Joaquin Thomas Jr. scored the game's opening points on a 64-yard pick-six in the second quarter for the visitors. Thomas later scored on a four-yard run in the fourth quarter.
"It's always a good game with Steele Canyon," Granite Hills head coach Kellan Cobbs said. "I thought the best chance we had to win was to go for two points, and we came up halfyard short. The defense played really well for us. The offense has to play more consistently."
The visiting Eagles scored the only touchdown in the first half and later added another in the third quarter to take a 14-7 lead on the host Foothillers in the teams' league opener. Thomas scored both touchdowns for Granite Hills — the first on an eight-yard run and the second on a four-yard run.
But Grossmont, despite being held to just 36 rushing yards by the Eagles defense, came up with the game's final 10 points to win.