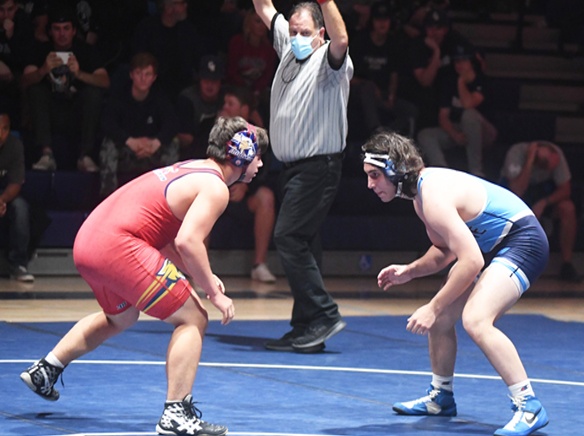 The latest COVID-19 Omicron variant seems to be at its height across the San Diego region. High school and college sports have been affected to the degree of either postponing games or fielding teams with skeleton lineups.
Schools have been affected to different degrees. Helix Charter High School, for instance, delayed the start of in-person classes this week because of COVID-related staff shortages. Instead, classes were offered online via Zoom.
Many other schools across the country are returning to distance learning as they hope to ride out the current coronavirus surge.
The Omicron variant has proven to be highly infectious and has spread rapidly since it was first identified on Dec. 1 in the United States.
It has already recorded several casualties, including the Dec. 28 SDCCU Holiday Bowl that was canceled just hours before kickoff between UCLA and North Carolina State. San Diego State University has had three Mountain West men's basketball opponents bow out because of COVID issues: Fresno State, Nevada-Reno and Wyoming.
The trickle-down effect has already begun. High school holiday basketball tournaments had teams drop out at the last minute, scrambling schedules.
More indoor winter sports have been bitten. Steele Canyon High School was only able to field four wrestlers for its dual meet Jan. 5 at Granite Hills High School.
The host Eagles had 14 wrestlers ready to compete but only four varsity matches took place on the mat.
Granite Hills won three of the four matches to claim the Grossmont Hills League season opener between the teams by a lopsided score.
"They had issues going on obviously," Granite Hills head coach Jesse Sheard said. "They were only able to bring four."
The near-capacity crowd still had plenty to cheer for.
At 132 pounds, Granite Hills' Collin Guffey defeated Steele Canyon's Brian Nero by an 18-3 technical fall.
At 145 pounds, Granite Hills' Jayson Suetos defeated Steele Canyon's Jacob Jimenez by a 14-3 major decision.
At 170 pounds, Steele Canyon's Javier Sanchez pinned Granite Hills' Kyle Fellows at 1:03 of the first period.
At 182 pounds, Granite Hills' Carson Boehm outlasted Steele Canyon's Isaac Constancio in a battle of attrition to win by a 5-3 minor decision.
Despite only four matches being contested, Sheard felt his team competed well.
"There are some things we need to fix, but they wrestled hard, they wrestled tough," Sheard said. "The boys work hard every day in practice."
The Eagles moved their dual meet to Wednesday in order to compete in last weekend's massive two-day Doc Buchanan Invitational at Clovis High School.
All ranked wrestlers in the state were expected to compete, earning the tournament the nickname of "meat-grinder."
San Diego Section power Poway participated, with Titans' Noah Tolentino (148) and Mikey Lytle (288) both placing second in their respective weight classes.
The Eagles are scheduled to compete in this weekend's Temecula Battle for the Belt tournament, another top-notch regional draw event.