The Granite Hills High School football team proved what the poll­sters had been saying all year: The Eagles were the top team in East County this season.
Granite Hills erased more than a decade of frustration against the Helix Highlanders with a timely 35- 21 victory on April 9 that gave the host team a perfect slate (3-0) in Grossmont Hills League play, 5-0 overall.
It marked the first win by Gran­ite Hills against Helix since 2005, erasing 10 consecutive defeats.
The teams were tied 14-all at halftime before the Eagles out-scored the Highlanders 21-7 in the second half.
"It was a great win for our kids," underscored head coach Kellan Cobbs, a 2005 GHHS graduate. "They have been working hard all year. They've been pushing us coaches. They wanted to be at prac­tice and were ready for the start of the season."
Practice has obviously made them perfect.
"Our defense has performed really well with the ability to stop the run and set up third-and-long situations," Cobbs elaborated. "The defensive line has four returning starters who have done well. Our quarterback play has improved and has been doing well so far."
Senior Justus McComb contin­ued his breakout play behind cen­ter this season by passing for three touchdowns and rushing for two scores.
McComb completed 11 of 16 passing attempts for 232 yards with one interception. He rushed 19 times for 96 yards to post a 125.0 quarterback efficiency rating.
The Eagles out-gained the High­landers 420-275 in total offensive yardage. McComb totaled 328 of­fensive yards in the game himself.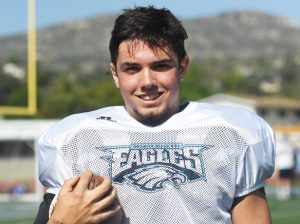 Senior Angel Almazon had three catches for 61 yards and one touch­down while sophomore Joaquin Thomas had three catches for 36 yards and one touchdown. Junior Zach Burton had one catch for a 26-yard touchdown.
Senior Matt Keeley, a three-year varsity standout, led the team de­fensively with 12 tackles and had one interception. He also caught one pass for 52 yards.
Senior Andy Lowry had one sack and one fumble recovery while Burton caused one fumble.
Senior Justin Harward had nine tackles while senior Gavin Arm­strong was five-for-five on extra-point conversions.
Pride obviously ranks high right now throughout the Granite Hills program, which suited up 110 play­ers this season across all levels.
It's an impressive number con­sidering that several schools in the section had to cancel their seasons because they could not sustain enough numbers to compete safely on the gridiron.
"At first we didn't know if we would even have a season, but we kept telling our coaches that we wanted to play together," Keeley said. "Kids kept showing up (to practice). I think we built on that. We wanted to be together."
Cobbs rates Keeley (6-2, 205) as an all-CIF worthy player.
"My first year we made it to the semifinals and lost to Lincoln but last season (2019) was not our best year — we lost in the first round to La Costa," Keely noted. "We've grown a lot (since then)."
"We have come together," Mc­Comb said. "We've been practic­ing for a whole year, not five or six months as we normally would in a season. We have great team chem­istry. We know each other's needs."
McComb, who has now passed for 15 touchdowns and rushed for six more, said the victory against Helix, one of the section's peren­nial top teams, was likely the big­gest in his two-year varsity career.
"It was a big win," the senior sig­nal caller said. "They have been on the top of the Grossmont mountain for 15 years. For us to beat them, and do it my senior year, was pretty amazing."
The future for the Eagles looks bright. Cobbs noted Granite Hills also won the junior varsity game against Helix.
"It was a big win for our pro­gram," Cobbs said. "I'm not sure if we've ever swept them at both levels. That might be a first for this team."