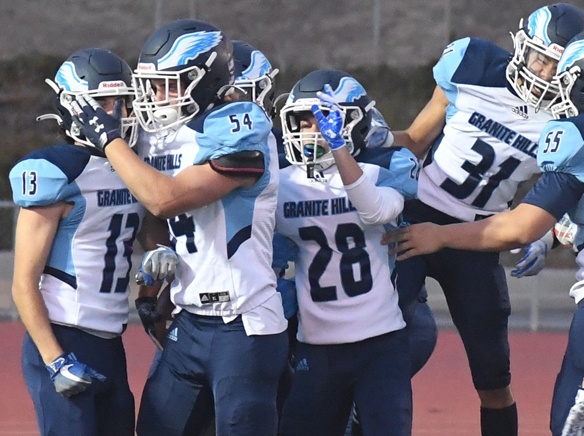 The Granite Hills High School football team took its first out-of-state trip in program history last Friday to Tucson, Ariz. The Eagles came home flying high following a 41-27 non-league victory against the Sahuarita Walden Grove Red Wolves.
The win extended Granite Hills' latest winning streak to two games to match the team's 2-0 start out of the gate before dropping a pair of non-league contests. The Eagles will have a week to celebrate before they head back on the road for a non-league game at La Canada St. Francis on Oct. 8.
Granite Hills takes a 4-2 overall record into its bye week.
The Eagles scored in every quarter in last Friday's game, tallying seven points in the first and second quarters to post a 14-7 halftime lead, then adding six points in the third quarter to lead 20-7.
Both teams lit up the scoreboard in the final quarter for 41 points — 21 by the visitors and 20 by the hosts.
The Eagles logged almost 400 rushing yards in the game, led by junior Zak Darling with 142 yards and junior Joaquin Thomas Jr. with 108 yards. Each player scored two touchdowns.
Darling napped off a 66-yard scoring run in the fourth quarter to put Granite Hills ahead 41-20.
Junior Corey Thompson-Miller gained 75 yards on five carries.
Granite Hills rotated quarterbacks on each series while emphasizing the ground game against the Arizona hosts to much success.
The Eagles also played to their strength — physical defense. Senior Zach Burton recorded two sacks and five tackles for a loss while senior Brandon Kleist had one sack and one interception.
Walden Grove dropped to 2-2 following the loss.
The Eagles have four games remaining in regular season play, including the upcoming game against St. Francis.
The final three games of the season will be Grossmont Hills League foes. Granite Hills will finally kick off league play Oct. 15 at Grossmont, followed by another away game at Steele Canyon on Oct. 22.
The Eagles will host Helix on Oct. 29.
The section playoffs follow.
Ratings game
The San Diego Section released its official power rankings after Week 5. There were some major differences from the weekly Max- Preps rankings, which the section has used in the past for playoff seeding. However, the section's Week 6 power rankings seem less divergent, though differences remain.
The section power rankings are sorted by division and will be used to seed the six playoff divisions.
Helix (3-2) is ranked seventh among Division I teams while Grossmont is ranked 10th, Granite Hills is ranked 12th and Steele Canyon is ranked 14th.
Christian (4-2) sits ninth among Division II teams while Santana (5-0) is third among Division III teams, followed by Grossmont Valley League rivals West Hills (6-0) at No. 6, El Capitan (4-1) at No. 7 and Monte Vista (0-5) at No. 17.
The section's Division IV power rankings placed Valhalla (1-5) at No. 7 and Mount Miguel (1-2) at No. 14 while the Division V power rankings place El Cajon Valley (2-4) at No. 10, Foothills Christian (2-3) at No. 13 and Mountain Empire (2- 3) at No. 16.
Teams are expected to change positions in the power rankings as they progress deeper into the season.
Mountain Empire defeated visiting Hoover, 28-0, in a non-league encounter last Friday to add a festive glow to the RedHawks' homecoming game.
Senior Larry Clark rushed for 180 yards and scored two touchdowns while senior Cody Whitehead rushed for 110 yards and one touchdown. Senior Gregory Reyes had 106 rushing yards and scored one touchdown.
The shutout win was the second of the season for Mountain Empire, which defeated Maranatha Christian by a 51-0 score to kick off the season on Aug. 20.