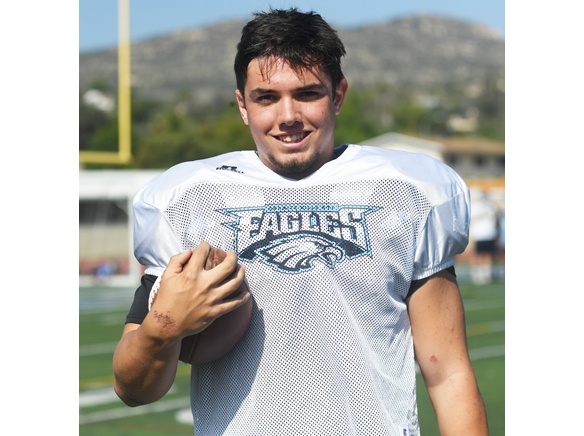 What else can be said about the 2020-21 Granite Hills High School football team that hasn't already been said?
The Eagles posted the top re­cord among Grossmont Confer­ence schools during the shortened spring season and came within a victory of posting the San Diego Section's only 6-0 unbeaten season.
Granite Hills finished 5-1 follow­ing a 63-14 loss in a "bowl-type" match-up against Open Division-caliber Carlsbad on April 16.
The hundreds of home fans in attendance at Valley Stadium may have left disappointed at the lop­sided outcome. But the Eagles had the chance to test themselves against one of the top teams in the section and get a measuring stick of how far they need to progress to join those elite programs in San Diego County.
They're close.
Granite Hills finished ranked 11th among the section's 80 high school football teams — ninth among Division I teams and fifth in line after the top four Open Di­vision schools were removed from the composite Division I rankings.
The Eagles finished 5-0 in con­ference play, 3-0 against Gross­mont Hills League competition. The team's crowning win during the spring included a 35-21 victory against Helix Charter, last year's Open Division champion.
Granite Hills had not defeated a Helix team in 10 years, making this season something special indeed.
Twenty-five seniors helped de­fine this year's GHHS roster, in­cluding quarterback Justus Mc­Comb, the East County Player of the Year, who will continue his football career at Southwest Min­nesota State University.
McComb completed 74 of 124 passing attempts (59.7 percent) for 1,195 yards with 16 touchdowns and three interceptions for a 121.5 quarterback efficiency rating. He also finished as the team's leading rusher with 408 yards on 69 car­ries and seven touchdowns.
He compiled 1,603 total yards for an average of 267.2 yards per game.
Defensive back/wide receiver Matt Keeley, who will attend Colo­rado State, earned honors as the conference defensive player of the year after logging 31 tackles (6.2 per game), one interception and one caused fumble. He also reeled in 193 receiving yards and three touchdowns on offense.
Other players who will continue their playing careers at the next level include wide receiver Angel Almazan (Mesa College), offensive lineman Stan Earley (University of Redlands), defensive lineman Joe Holt (walk-on at Oregon State) and tight end/tackle, defensive lineman Ryan Dobbs (Merchant Marines).
Almazan collected 412 all-pur­pose yards, including 397 receiv­ing yards, and scored five touch­downs.
The list of seniors on the team also includes defensive back/kick returner Titus Darling, defensive backs Dalton Sexton and Juan Carlos Abarca, running back/ linebacker Dashawn Fox, athlete Austin McVey, offensive lineman Dimitri Fuentes, linebacker Justin Harward, defensive end Tallon Archer, defensive linemen Garrett Smith and Andy Lowry, defensive tackle Broc Ludeke, linebacker Michael Wallace, offensive line­man Blake Riley, defensive line­man Jack Detweiler, offensive line­man Anthony Figueroa, defensive back Carter Hauge, kicker/wide receiver Gavin Armstrong, wide receiver Wyatt Henderson and kicker Camden Vance.
Sexton and Lowry both earned first team all-league defensive hon­ors while Riley was a first team all-league offensive selection.
Harward registered 14 tackles while Sexton had 13 tackles.
McVey compiled 251 all-purpose yards while Henderson tallied 176 all-purpose yards and two touch­downs. Darling collected 108 all-purpose yards, including 82 on interception returns.
Wallace posted 20 tackles while Lowry had 17 defensive stops to go with two fumble recoveries and a team-leading 2.5 sacks.