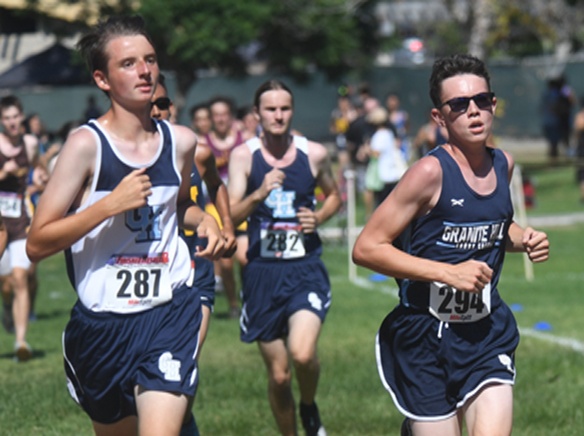 Cross country competition has returned to the fall, and it seems, with a stampede of runners.
Last Friday's Ian Cumming/Tim Latham Invitational at Chula Vista's Rohr Park attracted 40 teams and 1,250 runners to make a statement.
Granite Hills High School was among the cadre of East County teams that participated in the 10-race event.
While races went off on time, the 92-degree heat proved to be a challenge for some.
Things are still falling into place for the Eagles as the 2021 fall season continues to step off, according to head coach Walter Bueno.
"We have some talented young kids, especially freshman Orlando Carrillo, who we moved up to varsity this week," Bueno said. "Our junior girls have been a solid group since they were freshmen. They're looking good so far this year."
The Eagles finished fifth among the seven scoring teams in the boys junior varsity Mustangs Division race and posted a sixth-place finish among the 10 scoring teams in the girls JV race.
Sophomore Karli Howard finished seventh among individuals in the massive 140-deep girls JV Mustangs Division race with a time of 14:45.6 on the 2.0-mile course.
Freshman David Flowers (27th, 16:42.5) led Granite Hills in the 101-deep 2.5-mile boys JV race.
At the varsity level, the Eagles finished eighth out of 15 scoring teams on the girls side and 14th deep on the boys side.
Junior Kelly Cahill was Granite's top finisher in the girls varsity field in 32nrd place in the 104-deep field with a time of 17:59.0 on the 2.5-mile course.
Three Lady Eagles finished in the top half of the race as junior Emma Digenan placed 45th in 18:36.3 and junior Abigail Cicalo finished 48th in 18:40.9. Juniors Alexa Hernandez (55th, 18;53.1) and Ashlyn Brawner (57th, 18:54.9) rounded out Granite Hills' top five scorers.
Sophomore Collin Guffey was the Eagles' top finisher in the 96-deep boys varsity field in 46th place with a time of 18:40.5 on the 5K course. Carrillo held his own by finishing 57th in 19:23.9.
"Goals and expectations for the girls varsity team are competing among the top teams at league and conference," Bueno said. "For the boys, we are in the middle of a rebuilding year. We have a lot of returners but we're trying to build up the back end."
Cougar country
Steele Canyon, which also competed in the large school Mustangs Division, posted some very encouraging numbers on the warm afternoon with a fourth-place team finish in the boys varsity race and fifth-place finish in the girls varsity race.
Juniors Bradley Bell (17:17.6) and Juan Pablo Arredondo (17:20.4) finished 16th and 17th, respectively, in the boys varsity field. Junior Dominic Rizzo finished 20th in 17:32.7 as three Cougars managed to crack the top 20.
Steele Canyon's five scorers in the race also included junior Paolo Katachi (39th, 18:20.3) and senior Sergio Gaytan (42nd, 18:27.0).
The Lady Cougars turned in a 29-second pack time in the girls varsity race. Sophomore Katrina Stock Montano (17:31.2) and juniors Chase Diffenbaugh (17:35.2) and Yareli Alvarez finished 22nd through 24th, followed by junior Brooklyn Sitta (30th, 17:48.7) and senior Brenda Alvarez (33rd, 18:00.3).