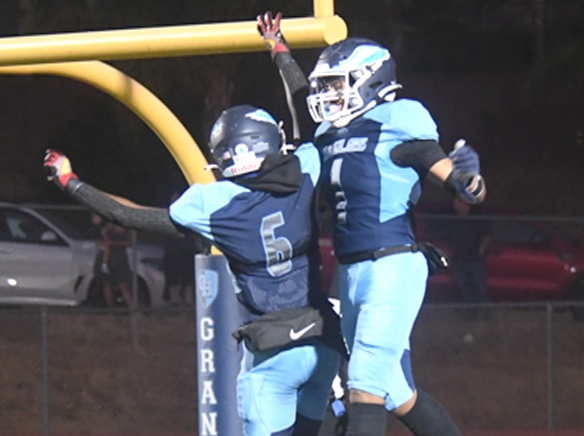 Granite Hills High School's football team could be ending its season on a high note if the results of last Friday's San Diego Section Division I opening playoff round is any indicator.
The Eagles, who kicked off regular season paly 2-0 but finished 4-6 to earn the No. 10 seed in the 12-team divisional playoffs, recorded a 31-14 upset win at seventh-seeded Oceanside to draw the No. 2 Madison Warhawks in Friday's quarterfinals. Granite Hills (5-6) snapped a cumulative four-game losing streak with the first-round playoff win. The East County visitors employed timely defense and offense in eliminating the Pirates (4-7).
Granite Hills head coach Kellan Cobbs said his team was looking forward to the challenge of playing its way up the playoff ladder.
"We have a tough road to a championship but as a young team we are excited for the challenge," Cobbs said.
Cobbs said his team's assignment against Oceanside was to slow down the passing game and get to the quarterback. On offense, the Eagles had to handle senior Jason Mageo, who Cobbs called "a very good linebacker."
The game tipped in the Eagles' favor early on as Joaquin Thomas Jr. blocked a Pirate field goal attempt and junior teammate Easton Peterson returned the ball 80 yards for a go-ahead touchdown.
The Pirates fought back on a nine-yard scoring pass from Max Mullen but the visitors proceeded to build a 24-7 lead into the fourth quarter. The hosts trimmed the Granite lead to 24-14 but junior Zak Darling scored his second touchdown of the game on a school-record 95-yard breakaway run to seal the playoff win for the Eagles. Thomas also rushed for a touchdown while the Eagles tacked on a field goal for an early 10-7 lead.
"It was a good win," Cobbs reiterated. "Oceanside is a tough school and tough place to win. Our defense did a great job of getting to the ball and forcing turnovers. Our offensive line stepped up big in the second half."
Madison (8-2) handed Granite Hills its first loss of the season, 34-14, in a non-league game on Sept. 3. Friday's winner advances to meet either third-seeded Lincoln (6-3) or sixth-seeded Eastlake (8-3) in the semifinals on Nov. 12.
Grossmont 17, Steele Canyon 14
Ninth-seeded Grossmont defeated eighth-seeded Steele Canyon, 17-14, in last Friday's opening round to meet top-seeded Helix (6-3) in Friday's quarterfinals. The winner advances to the semifinals on Nov. 19.
Grossmont (4-7) was the first to strike with a 60-yard interception return by senior Christian Espino to take a 7-0 halftime lead. Steele Canyon (3-8) tied the playoff contest, 7-7, in the third quarter on a short scoring run by junior running back Major Givens and went in front, 14-7, on another Givens TD run before the visitors closed out the game with 10 unanswered points.
The Grossmont defense limited Steele Canyon to 64 passing yards but had more difficulty containing Givens, who rushed 27 times for 247 yards. As a team the Cougars piled up 256 rushing yards.
Senior Nathaniel Gills had three catches for 62 yards to account for the bulk of the team's passing yards.
Junior Adrien Chargualaf keyed the Steele defense with nine tackles, including seven unassisted stops. Senior Leon Gillis had one interception.