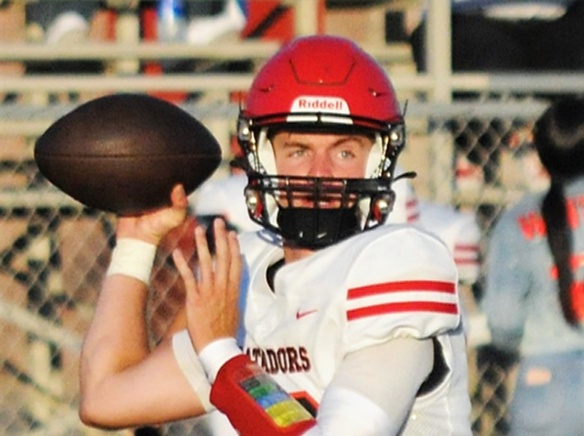 High school football fans can finally rejoice! The 2023 season has finally kicked off … and kicked off with a proverbial bang.
In a show of force, all six Grossmont Hills League teams won their season openers. Overall, eight Easy County teams tasted victory coming out of the chute.
In a game played on Thursday, Aug. 17, Santana defeated Canyon Hills by a score of 40- 21.
In games played last Friday, Aug. 18, Grossmont defeated San Diego, 34-14, while Steele Canyon defeated Heritage, 42-15, West Hills doubled up Imperial, 14-7, and Helix outscored Edison 38-34.
In a game played on Saturday, Aug. 19, Granite Hills made its 2023 season debut a victorious one 27-17 over visiting Mission Hills.
The opening weekend was exceptionally successful for East County teams as Mt. Miguel won 48-14 at Sweetwater and El Capitan defeated Valley Center, 47-18, in another pair of non-league match-ups.
Star power
Defending Grossmont Valley League champion El Capitan kicked off its season with record-setting performances by junior quarterback Brandt Barker (seven touchdown passes) and senior receiver Chance LaChappa (four touchdown catches).
"The team played hard all game and we got some big plays early on to help propel us," Vaqueros head coach Ron Burner said. "Great team win."
Barker completed 22 of 30 passes for 320 yards; his seven touchdowns in one game ties a team record previously set by Tanner Rust in a 2007 game against Santana.
LaChappa (seven catches, 168 yards) tied the school record co-held by A.J. Conti (2006 against St. Augustine) and Tila Case (2007 against Santana.
Senior Shune Hayes had three quarterback sacks to lead the El Cap defense, which also received one pick each by LaChappa and G.T. Taylor.
Senior Ryland Jessee passed for 245 yards and two secondhalf touchdowns and senior Kevin Allen III rushed for 102 yards and two scores and also scored on a 73-yard kick-off return as visiting Helix held on for the key non-league win against an Edison team ranked 31st in the state.
Sophomore Jake Williams had two catches for 74 yards while senior Kyzza Matovu (two catches, 39 yards) and senior Jackson Daniels (three catches, 18 yards) both made touchdown grabs.
The Highlander defense, paced by two picks by Jessee, made a late interception to run out the clock. Senior Charlie Carlson tacked on eight kicking points.
In Santana's win, senior Trent Taylor scored on a receiving touchdown and 80-yard kick-off return while senior Dylan Borcher scored on a 40-yard interception return and senior Linden Benson and sophomore Jayden Goldman each scored one rushing touchdown.
Seniors Collin Dill (six rushes, 31 yards) and Diego Calderon (30 receiving yards, seven rushing yards) each scored one rushing touchdown to lead West Hills.
In Mt. Miguel's win, senior quarterback Matthew Barton completed a four-touchdown performance with three passing scores and one rushing TD while passing for 227 yards and rushing for 90 yards.
Senior Caprese Pressley (two catches, 63 yards) and freshman Delontay Williams (four catches, 92 yards) each scored two touchdowns for the Matadors, who led 26-0 at the end of the opening quarter.