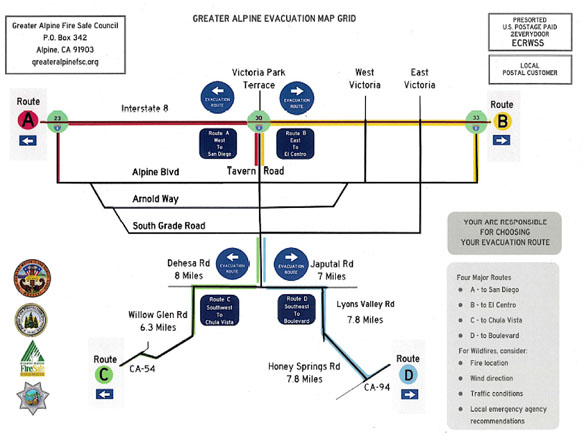 Mailers are being sent this week to all residents in the 91901 ZIP code area with four key pieces of information residents can use during fire evacuations to determine their fastest and safest plan for leaving the area.
Greater Alpine Fire Safe Council President Neville Connell said the project, a collaboration between the Alpine Fire Protection District, Alpine Fire Marshal Jason McBroom, Alpine sheriff, Greater Alpine Fire Safe Council, and the county of San Diego, is the first of its kind in the county and he urges residents to familiarize themselves with the mailer before the next fire hits Alpine.
The first thing residents will likely notice on the mailer, Connell said, is a map of Alpine with four different evacuation routes that use different major roads.
Blue signs are now installed throughout Alpine and point residents toward four different directions: I-8 West, I-8 East, southwest toward Chula Vista, and southeast toward Boulevard.
The second item residents will find on the mailer is information and a website address for WIFIRE, a National Science Foundation- funded fire map modeling platform made public by regents of University of California.
The WIFIRE site reveals exactly where a fire is burning through the use of satellites that detect heat. It also collects information on wind speed and direction and, although the site should not solely be used to make decisions, it can help inform residents who might not otherwise grasp the exact location of a fire.
A third item on the mailer is another useful site, Connell said, "You can see where fire retardants are being dropped and get a sense of how threatening the fire is to you and your position."
Finally, a link to real-time traffic conditions is also on the mailer so residents can make wise decisions about which route to take if more than one would work in a particular scenario.
"Looking back at the Cedar fire, most evacuations involved residents going on I-8 to the west and it became a parking lot. We have much more information available to us now online and this is designed so people can look specifically at where the fire is, wind direction, figure out where it might go and see where they're fighting it and then pick a route that makes sense. That route is not necessarily I-8 West," Connell said.