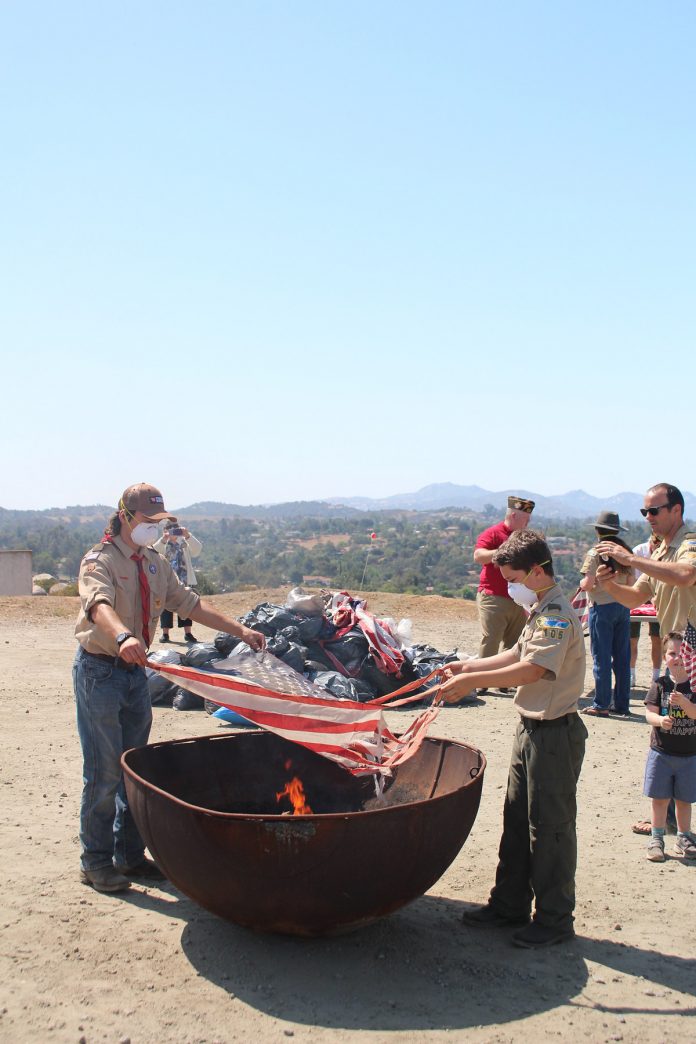 The flag retirement ceremony planned for the Alpine VFW June 19 morning was scheduled to take about three hours. Instead, the event lasted nearly six hours as pile after pile of flags were laid to rest, one flag at a time. Alpine VFW Commander John Sullivan later said they stopped counting after reaching 1,200 flags.
The ceremony began with a formal prayer from VFW Chaplain Theo Bazdorf, after the handful of attendees who braved the heat on Saturday were reminded of U.S. Flag Code, which says that the American flag, when it is in such condition that it is no longer a fitting emblem for display, should be destroyed in a dignified way, preferably by burning.
"To clean and purging flame, we commit the flags… flags no longer serviceable due to their previous, long, honorable and worthy service," Bazdorf prayed.
By the end of the day, the Boy Scouts from Alpine Troop 105 who had volunteered to help along with their Scoutmaster, Derrick Davis had removed extraneous layers of their uniform and worked through a cloud of smoke rising up from each flag that was neatly kept from touching the ground before being cremated with final honors.
"The Scouts from Troop 105 busted their butt for being there all day. They thought they'd be there for a few hours and they stayed until past 4 and it was just… it was really hot," Sullivan later said.
However Nash Haven, 17, who recently made Eagle rank, said he and the other boys from his patrol were happy to be there "doing our community service and representing Boy Scouts" in one of the first in-person outings this year.
"It feels good just to be back out and doing things again," Nash said.
Girl Scouts representing the Chaparral Service Unit were also there to observe and learn how to properly conduct a flag retirement ceremony.
"Now lower it in carefully, points together," Davis said, leaning over and guiding the youngest Scout over the hot fire as Committee Chair Josh Rupe readied flags for retirement at a nearby table.
Encanto VFW Auxiliary member Bea Brunner, currently serving as District 1 Patriot Instructor carried armfuls of small flags to the fire, handing them off to Scouts in bundles.
Meanwhile, Alpine VFW Quartermaster Carl Silva stood off to one side and explained to attendees that part of the reason for holding the event was to retire the flags but also to "teach kids what this ceremony is all about".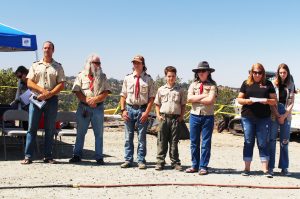 Although June 14, Flag Day is considered the most appropriate day to hold flag disposal ceremonies and the post usually holds a ceremony on or around that date each year, 2020 was an exception with the pandemic and some of the flags laid to res  on Saturday had been stored for over a year of social distancing.
"Because there wasn't a flag retirement in the Spring before everything shut down for COVID, we effectively had almost a year and a half's worth of pileup," Davis said.
Even with spending six hours retiring flags on Saturday, there are still more in a second storeroom, he said, that will be officially retired in the fall with cooler weather.
"Everybody did well, the VFW had great support and I'm very proud of my scouts… We'll definitely be doing this twice a year from now on," Davis said.