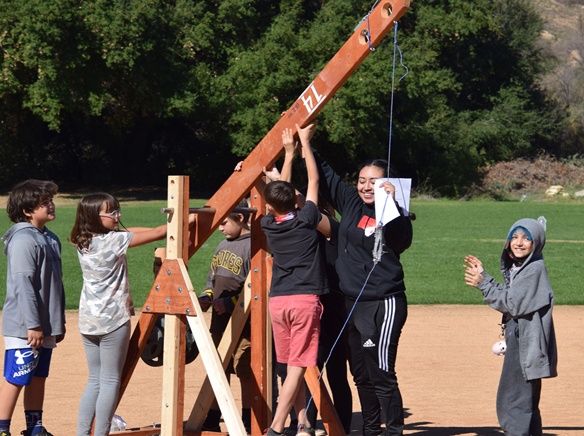 Gourds and golf balls were in the waiting as teams of children learned how to build catapults as they ran around the sports field, just waiting for the opportunity to launch them across the field at targets, and to see how far they would fly.
Fourth and fifth graders of the Alpine Union School District joined forces at the Shadow Hills Elementary School sports field for its sixth Punkin' Chunkin' event, where students use their knowledge of the history, math and physics of the trebuchet, the Medieval siege engine, for fun and competition. Due to the pandemic, last year's fourth graders missed out on the catapulting event, so this year, the Alpine Education Foundation opted to hold the event two days, with fifth graders building and competing on Nov. 9, and fourth graders participating on Nov. 10.
The Foundation partnered with Intellicept, the makers of Skatestoppers, the Kiwanis Club of Alpine, and the Alpine Veterans of Foreign Wars in this program of math, physics and engineering only offered at Alpine Union schools. The Alpine Education Foundation is a nonprofit with a mission to enrich and enhance the education of the students of the Alpine school district by offering STEAM programs for the students, said AEF President Jessica Manning Ross.
"So we have about 200 fifth graders today. And tomorrow, we'll have about 200, fourth graders, and they come out and they work together with some engineering and some teamwork, and they put together eight to ten-foot-tall trebuchets, and they construct them, and then they launch golf balls, or gourds," said Ross. "And so, they're learning about the physics and the engineering of building these trebuchets and launching at targets for distance and accuracy."
Ross said the outline of the Foundation is offering steam programs for students to learn, science, engineering, math, art, coding, robotics, and music. She said the Foundation applies for grants, then spreads the grants for different programs in the district.
"That just enriches the program that the students get on campus. So, it's a science lab, or if it's a coding class where they get to use robots, code robots, to do certain things or they do gardening, or they do aquaponics," she said.
Eleven-year-old Kash said that building the trebuchet was not as fun, but he was having a great time with his friends. He said what he looked forward to "getting that thing to Mars," when they actually got to catapult.