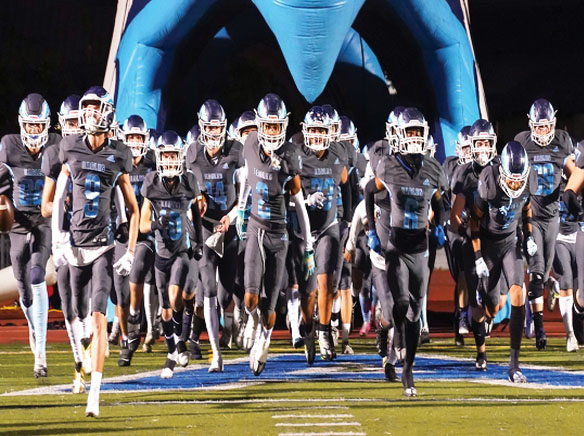 The final chapter on the 2022 high school football season was written last weekend with state championship games taking place across California.
Saddleback College was the featured venue for all A and AA games while other divisions took place at host sites between participating teams.
The San Diego Section qualified four teams for games at Saddleback College – and came up a winner in all four games in a tremendous show of force.
Section teams won three state championship games last year.
Division I section champion Mater Dei Catholic captured its second consecutive state title by defeating Oakland McClymonds, 26-18, in last Friday's Division 2-AA bowl game, followed by section Open Division champion Lincoln's thrilling 33- 28 win over Nor Cal champion De La Salle in the Division 1-AA game.
Section Division II champion Granite Hills and section Division V champion Classical Academy both played the following day.
Granite Hills defeated San Ramon Valley, 31-24, in an exciting overtime game to win the Division 2-A championship while Classical Academy edged San Jose Santa Teresa, 7-0, in a defensive matchup to capture the Division 6-AA.
San Diego Section commissioner Joe Heinz had to be pleased by the quadruple championship sweep.
Mater Dei Catholic (11-4) made history by claiming its 11th consecutive win on the season while Granite Hills (13-2) extended its winning streak to nine games.
Lincoln (13-1) won its 12th straight game while Classical Academy (12-3) captured its fifth game in a row.
Soaring Eagles
The script kept getting better for Granite Hills in this season of plenty, though the Eagles had to go to overtime to reach the end credits in last Saturday's state championship game.
Granite Hills, the newly crowned Southern California regional champion, never trailed against Northern California champion San Ramon Valley, though the teams traded touchdowns — and later field goals — to end regulation tied at 24.
There was no scoring in the first quarter and only one touchdown scored overall in the first half – that by the Eagles on a 35-yard pass play from senior quarterback Parlan Sanders to senior Davion Green.
Junior Robert Petrich supplied the extra-point conversion and Granite Hills led 7-0 at the half.
There was still plenty of football to be played and the teams combined for 55 points before it was finally settled.
The Wolves tied the game, 7-7, on a 38-yard touchdown pass from junior Luke Baker to senior Trevor Scott and the extra-point conversion by junior Austin Shelton.
The Eagles took flight on a 44-yard touchdown run by sophomore Maxwell Turner to lead 14-7. San Ramon Valley countered on a four-yard scoring pass from Baker to Scott to tie the score at 14 by the end of the third quarter.
Each team scored 10 points in the fourth quarter.
Sophomore Isaiah Jackson scored on a 10-yard run and Petrich's extra-point kick placed the San Diego Section Division II champions into a 21-14 lead.
Baker scored on a five-yard run to tie the score, 21-21, with 5:56 to play in the quarter.
Granite Hills took a 24-21 lead on a 38-yard Petrich field goal with 3:22 to play. But there was time for the Wolves to counter once more as Shelton converted on a 37-yard attempt with just 14 seconds left in regulation to send the game into overtime.
Jackson scored on a two-yard run for the only score in the overtime period to finally end the game and launch the Eagles into celebration mode.
"The kids stepped up and made some really big plays at the end of the game," Granite Hills head coach Kellan Cobbs said. "The offensive line gave Jackson running room and he did a great job of finding the end zone.
"The defense was able to get some pressure on the last series and help us secure the win. Joaquin Thomas had a big pass break up on the final drive."
Granite Hills piled up 385 total offensive yards in the victory, including 252 rushing yards.
Jackson rushed 13 times for 92 yards and two touchdowns while Turner rushed 13 times for 75 yards and one touchdown. Senior Zak Darling gained 64 yards on six carries. The trio combined for 231 rushing yards and three touchdowns.
Sanders completed five of eight passing attempts for 54 yards with one touchdown while senior Nico Tomasello completed eight of 11 passes for 79 yards with one interception. The two signal-callers completed a high percentage of their passes (68.4 percent) for 133 yards.
Senior Colin Riley had five catches for 67 yards while Green had two catches for 38 yards.
The Eagles defense was active with 72 tackles, including 31 first hits. Senior Derrek Ibarra led the group with nine tackles while junior Jordan Glaze, sophomore Parker Vance and senior Royce Harper all recorded eight tackles. Vance had four tackles for a loss. Junior Dammarion White had seven tackles, including three for a loss.
Granite Hills defenders combined for eight sacks, including two each by junior Tyler Bertalan and Vance. White, Ibarra and junior Moshi Tileia each had one sack while seniors Jon McClement and Daniel Netto shared one sack.
Senior Easton Peterson continued his knack for spoiling the other team's party with one interception to give him nine in 15 games.
Petrich finished the game with seven kicking points.
Of the four players who scored points in this year's state championship game, three are returners.
"Next season we have a few holes to fill, but overall have a lot of guys coming back," Cobbs said. "I think we are set up to have another great run next year."