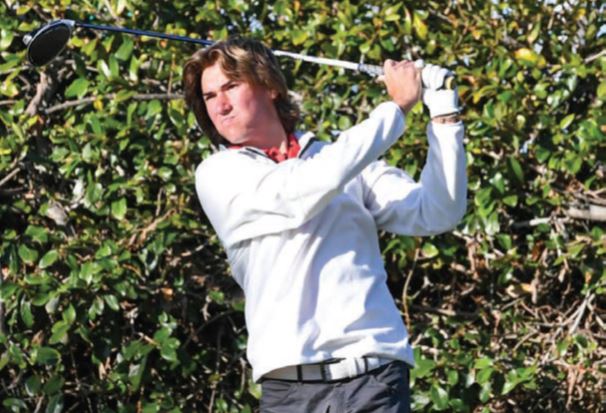 Shea Lague, the 2021 San Diego Junior Golf Association Player of the Year in the boys championship division, has prospered during his first year on the San Diego State University men's golf team.
The Steele Canyon High School graduate earned recognition as the Mountain West Men's Golf Freshman of the Week after helping the Aztecs finish sixth at the Southwestern Invitational Jan. 25-27 in a 12-team field that included six teams ranked in the top 21 in the Golfstat rankings. It was Lague's first career conference honor.
SDSU finished sixth at 7-overpar, defeating No. 8 Texas by 15 shots, and fellow MW opponents San Jose State by 31 and UNLV by 35. The only teams ahead of SDSU were No. 3 Arizona State, No. 7 Pepperdine, No. 21 Washington, No. 13 Georgia and No. 14 Wake Forest.
Lague finished tied for 23rd out of 64 golfers at two-over with a score of 218. He opened with a 2-under 70 and played as the Aztecs' No. 1 golfer the rest of the tournament, following with an even-par 72 on the second day and a 4-over 76 on the third day. He recorded 13 birdies in the tournament, which was the most on the team and tied for the 12th most in the tournament. Lague also ranked second in the 64-man field in par-4 scoring (3.87).
The Cougar alumnus, who had averaged 72.58 in 12 rounds across four tournaments, recovered from a nine-over 80 on the opening day of The Prestige tournament Feb. 21-23 with an even-par 71 to vault up 30 places to finish in a tie for 45th on the final leaderboard as SDSU's No. 2 place-finisher.
Lague sank birdies on the par-4, 431-yard 15th, the par- 5, 537-yard 16th and the par- 3, 180-yard 17th to start out his first nine 33, but he double bogeyed the par-4, 470-yard second and bogeyed the par-4, 380-yard fifth to sign for a 71.
SDSU finished in a four-way tie for 13th place out of 24 teams at the La Quinta event. The Aztecs shot a 13-over 297 in the final round to end at 47-over 899 overall at the par-71, 7,100-yard Greg Norman Course at PGA West.
SDSU tied with No. 5 Pepperdine, Colorado State and North Texas, two shots behind No. 25 Louisiana State University and host UC Davis, which were 11th at 45-over 897. Vanderbilt shot a 14-under 270 on the final day to finish at 16-over 868, 10 strokes clear of No. 48 Oregon (+26). No. 14 Kansas (+29) and No. 7 Texas Tech (+33) took third and fourth, respectively.
Puwit Anupansuebsai (Nakhon Phanom, Thailand) tied for 16th out of the 120 entrants to lead SDSU at eight-over 221.
Lague notched a at four-over with a score of 220 to finish in a tie for 58th with Aztec teammate Zihao Jin (Rancho Bernardo) at the 15th annual Lamkin Grips Classic played March 7-8 at The San Diego Country Club in Chula Vista.
SDSU finished 12th in the 16-team field with a score of 872 (eight-over). Louisiana State University won the team title with a score of 827 to finish 37-under par, followed by the University of Washington in second place at 835 (29-under), Notre Dame in third place at 837 (27-under), the University of San Diego in fourth place at 839 (25-under) and Nevada-Reno in fifth place at 851 (13-under).
LSU's Nicholas Arcement topped the leaderboard at 13-under with a score of 203.
USD's fourth-place team finish was highlighted by a pair of top 10 individual finishers. Redshirt junior Charlie Reiter finished in fourth place at nineunder par with a score of 207. Fellow redshirt junior Harrison Kingsley finished in a tie for sixth place at seven-under with a score of 209, two strokes back.
Freshman Jack Townsend (Charter School of San Diego) tied for ninth to pace SDSU at six-under (210) for the three rounds.
The Aztecs and Toreros served as tournament co-hosts of the event, which had its origins as the San Diego Intercollegiate in 2008 primarily as an opportunity for local college programs to compete against one another before expanding in recent years to include teams from across the nation.