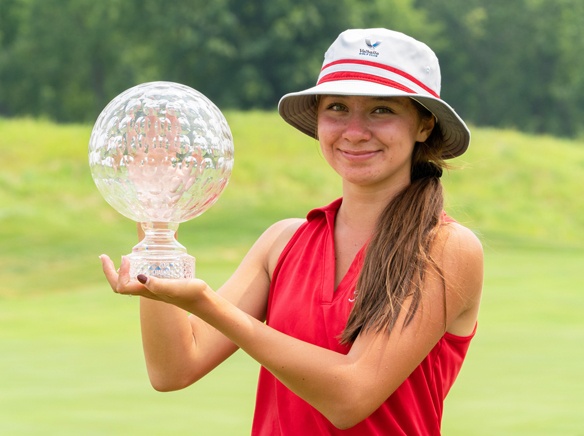 When Anna Davis returns to classes as a sopho­more at Steele Canyon High School, she will do so as a national golfing champion.
Davis, 15, marched to a spectacular seven-shot victory at the 45th Girls Junior PGA Champion­ship, held July 27-30, at the Valhalla Golf Club in Louisville, Ky. She topped the competition by shooting a final-round 6-under 67 on the par 73 course to match the low round of the day.
She finished the four rounds of competition at 15-under-par with a score of 277.
"It feels so good to top off the summer this way with a big win at a tournament like this," said Davis, who earned first team all- CIF honors as a freshman along with junior classmate Annika Yturralde.
"If I was put in this situation a year ago, I definitely would have struggled mentally. That's for sure. But my mental game has improved so much, just keeping my head in the game, worry­ing about me and not what the other girls are doing."
Davis paced the field for the final three rounds of the four-round event, though she was pushed at various times. How­ever, she refused to falter each time presented with adversity.
Seventeen-year-old Julia Misemer (Overland Park, Kan.) closed the gap on Davis to two shots with a birdie on 13 in the final back nine. But Mise­mer could not continue the momentum and suf­fered through misfortune with a triple bogey on 15 to fall four shots further back.
"It went from two to a six-shot lead in like min­utes," Davis said. "So, I could relax a little bit after that, which was nice to not be super stressed go­ing into the last few holes."
Misemer finished in sole possession of second place at -8 with a score of 284, followed by Megha Ganne (Holmdel, New Jersey) in third place at -7 with a score of 285.
"I've played so many tourna­ments this summer against so many well-known girls," Davis said. "So that experience has definitely helped for times like this."
Davis was tied for fourth after shooting a 69 (four-under-par) on the opening day of competition. Alexa Pano (Lake Worth, Fla.) topped the leaderboard after the first round with a score of 66(seven-under-par) while Pleas­anton's Jaclyn LaHa was tied with Isabella McCauley (Inver Grove Heights, Minn.) at 68 for second place at five-under-par.
Davis shot a 68 on the second day of competition for a score of 137 to take a two-stroke lead over LaHa. The two were among 76 golfers to come in at nine over par to qualify for the final two rounds.
Davis cashed in with her put­ting game in Round 2 with seven birdies en route to a 5-under 68 and the solo lead. She shot five birdies on the first nine.
"Usually if I do putt well, that's when I shoot low," Davis said. "My ball striking is usually the best part of my game, so if I can get the putter going, I can play well."
Davis shot par in the third round on July 29 but managed to maintain her stop at the top of the leaderboard with a total score of 210 to 212 for McCauley and Misemer.
Davis was three-over after five holes but played the rest of the day three-under with four birdies, including the last one on the par-5 18th hole that rolled close to the water.
"I was a little bit all over the place … just a little bit," Davis said. "I just hit bad shots here and there. It was everywhere, but mostly I was just missing greens."
She credited her mental game for keeping her within final reach of her goal of winning the tournament.
"I guess the strong point today was my mental game," Davis said. "I just kept my head about me. It was one of those kinda days."
And, ultimately, a superlative week.