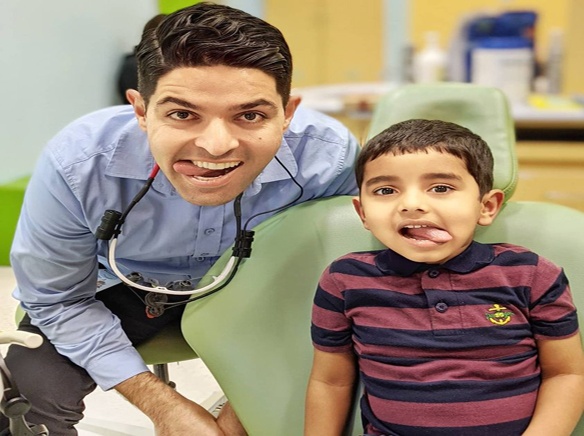 The American Dental Association launched its Give Kids a Smile program nationally in 2003, an effort for local dental com­munities to voluntarily provide services to underserved children. Alpine Pediatric Dentistry is bringing this national event to its office for the first time on Feb. 9.
Alpine Pediatric Dentistry will provide free dental care, includ­ing comprehensive dental exams, X-rays and additional work as time permits for under-insured children ages 1 to 16 years old. Depending on the response, it has set up another date for Feb. 26 for those unable to make an appointment or for children who need follow-up appointments.
Dr J. Shahangian, pediatric dentist and owner of Alpine Pediat­ric Dentistry, said they are pleased to be part of Give Kids a Smile and making it safely accessible to families in Alpine. Children from the surrounding area are invited, but Alpine residents will be given priority.
"Helping children in our community have healthy teeth brings our mission statement closer to reality," he stated. "We want to make it possible for more local children to improve their health now and their wellbeing in the future through the life-altering power of a confident smile."
Alpine Pediatrics' Rebecca Thornhill, community outreach coordinator and licensed dental assistant, said the dental practice has been in Alpine for about three years and Shahangian works with fellow pediatric dentist Dr. Neek Lamantia. Thornhill said with early intervention in children's dental care, children should be seen by a dentist by their first birthday.
"This way we can look to see if there are any abnormalities, but it also gets children comfortable seeing a dentist at a very young age as children are asked to do abnormal things, like holding them back and having a dentist going inside their mouths to work on them."
Thornhill said that having a good smile is important in child development by building confidence.
"With a good smile, children do better in testing, have better social skills and feel more comfortable around their peers," she said. "It also builds their self-esteem."
Statistics show that nearly one in four children between the ages of 1 and 11 have untreated cavities in their baby teeth, ac­cording to the U.S. Centers for Disease Control and Prevention. Additionally, 51 million hours of school are missed each year by children due to dental pain and problems. Certain populations are disproportionately affected. They include Native American children as well as those in rural areas. Many of these children are enrolled in Medicaid; however, they do not have access to a dental provider throughout the year.
Recently, this challenge has been compounded with safety concerns surrounding COVID-19, sparking prolonged periods of closure of community dental clinics, further reducing access to care. Give Kids a Smile Day serves up to 400,000 children each year, with more than 40,000 professional volunteers nationwide.