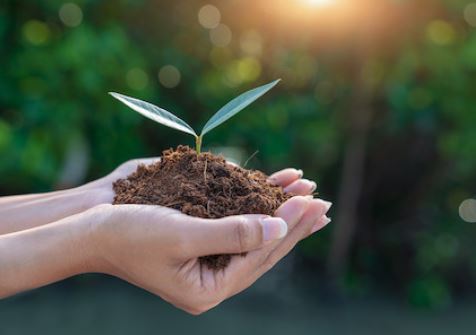 The Descanso Garden Club is offer­ing 10 free garden plots on the Town Hall building grounds at no cost to residents who live in or near Descan­so including Alpine and surrounding communities.
Each person who applies and is cho­sen for a plot will receive a garden bed frame and free sacks of soil as well as PVC pipes that can be used to support protective coverings.
The project is jointly organized and is being facilitated by the Descanso Town Hall and Descanso Garden Club with funding support from a Califor­nia Garden Clubs grant.
Residents will need to purchase their own plants or seeds but Des­canso Town Hall Board Member and Garden Club member Susan Kyle Lancaster said the gardens will be watered along with the Town Hall grounds to fulfill part of their mission statement: to provide for the commu­nity.
"The Descanso Garden Club is part of the California Garden Clubs, we're under their umbrella. They sent out an announcement about a $1,000 matching fund garden plan that would involve the community. We applied, and said we'd like to work in conjunc­tion with town hall to set up plots for people who don't have gardens at home," Lancaster said.
Although she said the garden plots "won't be huge at five feet by two feet," they will be "large enough for some squash, some cucumbers, the basics".
She also said members of the gar­den club are available to give advice to first-time or uncertain gardeners.
Recalling her own struggle to es­tablish her garden in Descanso after many years of living in Alpine, Lan­caster said it can be a challenge for new residents and this is a good way for them to get started learning about how to garden in an area that regu­larly freezes over.
"When I moved from Alpine to Descanso, I had lived in my house for decades and trying to start up in a new area was— well, things died, I replanted, they died again, I replanted again. We have frost here until the first of June and it takes time to get used to it. The garden club became my salva­tion," Lancaster said.
The spring planting season is something of a test, she said, and the group eventually hopes to have all 10 plots filled with a warm-weather planting as well as a winter garden.
"We're going to plant one as an example that people can copy if they need to this spring, then next winter we'll plant a winter ver­sion," Lancaster said.
Eventually, she said, they would like the garden to become a com­munity destination.
She and other garden club members want to create a park-like setting where families come up to play in the dirt and work in their garden, bring a picnic lunch, and hang out with young children for a morning or afternoon out­side.
"The Town Hall has a landscape company that is donating some pathways and picnic tables for our back acres and we're hoping it be­comes a little park since we don't have anything like that," Lancaster said.
The Town Hall and future gar­den plots are located at 24536 Vie­jas Grade Road, Descanso.
Visit www.descansotownhall. org for more information or to download an application.