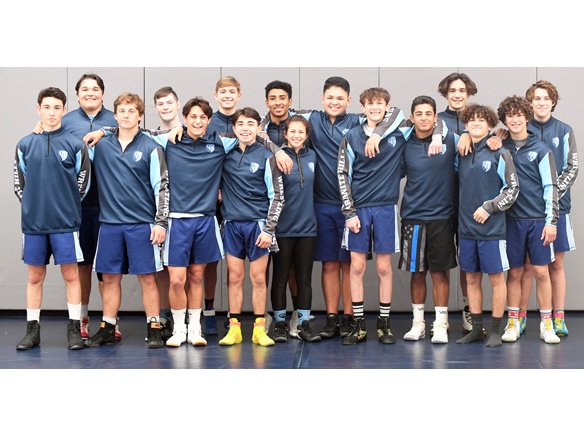 There still isn't word on wheth­er the San Diego Section or the California Interscholastic Federa­tion will hold post-season tourna­ments, but the high school wres­tling season has faced off for local East County teams.
The defending Grossmont Hills League dual meet champion Granite Hills Eagles are already off to a 4-0 start after defeating Grossmont, Bonita Vista, Helix and West Hills in dual meet com­petition.
The Eagles entered their final dual at Steele Canyon on May 13 with a 3-0 league record. The dual meet season will be followed by a coed league championship tournament on May 15 at Granite Hills High School, starting at 9 a.m.
The section divisional champi­onships, should they happen, are scheduled May 29. Sites are TBA.
Eagles head coach Jesse Sheard said it's been a great expe­rience just to be back on the mat during these trying times that has kept many student-athletes idle for the past year because of the COVID-19 pandemic.
"We have a great group of kids who have wrestling experience," Sheard said. "We have novice wrestlers and the older kids have taken them under their wings to get them to where they are now. You've got to have faith that it's going to pay off."
Granite Hills defeated visiting Bonita Vista, 69-6, in the teams' non-league encounter on April 24. The Eagles won 12 of the 13 matches, including seven by pins and another four by forfeit.
Seventy-eight is the most points a team can score in a dual meet, so the hosts were near perfect on the day.
"This dual meet showed the kids that they did their work dur­ing the practices," Sheard said. "They didn't take time off. We just tried to keep it simple."
Kailey Smith (106), Camren Carmickle (113), Collin Guffey (120), Ian Brown (132), Justin Carroll (145), Joel Corella (152) and Broc Ludeke (195) all record­ed pins in their matches.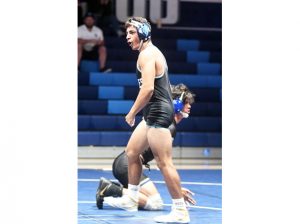 Zach Waterhouse won an over­time match, 11-9, with a takedown seven seconds into the sudden-victor y period while Keagen Kroeger (160), Kyle Fellows (171), Nicolas Casillas (220) and Logan Ransdell (285) all won by forfeit.
Corella turned in the fastest pin with 0.3 second left in the first pe­riod.
San Diego Section Commis­sioner Joe Heinz said the CIF is working with the California De­partment of Public Health to dis­cuss options to host a culminating championship event.
Should the divisionals take place, Granite Hills would par­ticipate in the Division II tourna­ment. Sheard said an expectation would be to finish among the top three teams.
"We don't know if there will be a state tournament, but we would love to have some state qualifi­ers," Sheard said.
There are several new safety protocols this season, including the elimination of handshakes on face-offs prior to matches and of officials raising the arm of win­ning wrestler. Seating is also so­cially distanced for each team.