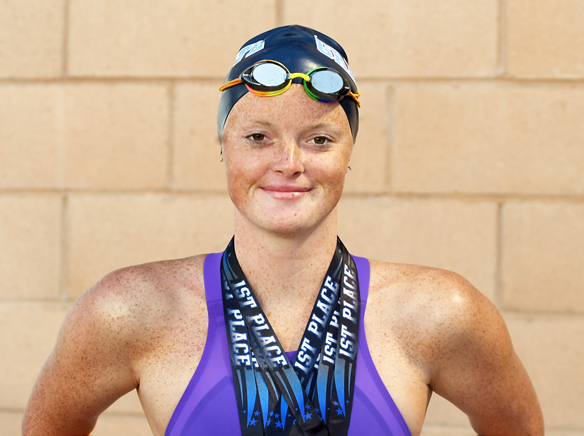 It will be hard to match the ex­citement level of this year's Gross­mont Hills League swim finals held April 16 at Granite Hills High School.
Each of the six schools claimed at least one individual or relay champion, the diving competition included.
Several league records and a host of school records fell across the board.
"The overall competitiveness of the meet was extraordinary," Valhalla coach Steena Harriman said. "For a year when many of our athletes had only competed in a handful of meets here and there, the level of competition was out of this world. From the girls medley to the boys 4×100, every race was exciting in its own way. I'm am so proud of my Norsemen for coming out and showing their best. We are very lucky to have such steep and fun competition around us."
LADIES FIRST
Regular season dual meet cham­pion Granite Hills finished on top of the girls league finals with 490 points. The Eagles captured six first-place finishes in the 11 swim events, starting with setting a new league record in the meet-opening 200 medley relay.
"It was a fun meet," underscored Granite Hills coach Cathy Elgas. "The competition was intense and made everyone swim fast."
Freshman Brooke McCoy (back­stroke), senior Rachel Sapper (breaststroke), junior Erin Kluge (butterfly) and sophomore Izzy Cox (freestyle) each swam legs on Granite Hills' record-setting med­ley relay unit that timed 1:48.53, winning by four seconds.
Cox would go on to have a mem­orable meet by winning four gold medals. Besides the gold medal in the medley relay, she also claimed first place finishes in the 50 free­style (24.86) and 100 freestyle (53.63) and swam the first leg on the victorious 400 freestyle relay (3:42.01).
Cox won both of her individ­ual events in photo finishes. She slipped past Grossmont junior Kris­ten Furuholmen (25.17) by 0.31 second and out-muscled Gross­mont senior Laney Hall (54.18) by 0.55 second to win the longer distance.
"I did better than I thought I would do," Cox said. "The sea­son was tougher than I thought it would be. Pulling out the fourth medal was more than I expected."
Kluge won three gold medals. Besides earning the league record in the medley relay and swimming anchor on the 400 freestyle relay, she set a school record in winning the 100 backstroke (58.76) by 0.16 seconds over West Hills senior Jor­dyn Gonzales (58.92).
Both Kluge and Gonzales dipped under the previous league record.
Kluge was denied a potential fourth gold medal after being edged by a scant 0.03 second in the girls 100 butterfly, an event that in­cluded four entrants from the 2019 section finals. West Hills senior Camryn Gonzales — Jordyn's twin sister — touched in 57.52 while Kluge, the league record-holder in the event, touched in 57.55.
Sapper won an individual gold medal in the 100 breaststroke (1:06.84) while swimming a leg on the record-breaking medley relay for two gold medals on the day.
Sapper's breaststroke medal came in a furious stroke-for-stroke duel against Valhalla's Munch that was decided by 0.40 second.
MAKING A SPLASH
Granite Hills sophomore Aidan Keane appeared on course to pos­sibly win four gold medals to match Cox. He started off with a bang by swimming a leg on Granite Hills' victorious boys 200 medley relay team (1:40.74), then captured indi­vidual gold medals in the 500 free­style (4:48.77) and 100 backstroke (53.62) before tying for second place in the meet-ending 400 free­style relay.
Despite being the longest race in the program, the 500 freestyle pro­duced fast times. It took a school record time by Keane to finish ahead of Valhalla junior Eli Mohr (4:49.11).
After squeaking out a 0.34-sec­ond win in the 500 freestyle, Keane won the backstroke event by more than a five-second margin.
"I put in a lot of work and effort and I think I got what I deserved," said Keane, who was making his debut at the league finals. "It paid off."
Granite Hills freshman Braden Felio made his league finals debut an impressive one with two gold medals, one silver medal and one bronze medal.
Felio won gold medals in the boys 200 medley relay and 200 freestyle (1:47.30), a silver medal in the 400 freestyle relay and a bronze medal in the 100 butterfly (55.87).
He has his eye on more medals. "There's still CIF," he said.
Granite Hills sophomore Chloe Morgan, a gold medalist in the girls 4×100 relay, recorded a runner-up finish in the girls 500 freestyle (5:27.80) while the Eagles placed second in the boys 200 freestyle relay (1:35.43).
Granite Hills finished with a combined (boys and girls) team score of 866.5 points, while Gross­mont was second with 803 points.
Helix finished third with 782 combined points, followed by Val­halla with 542 points, Steele Can­yon with 483.5 points and West Hills with 412 points.