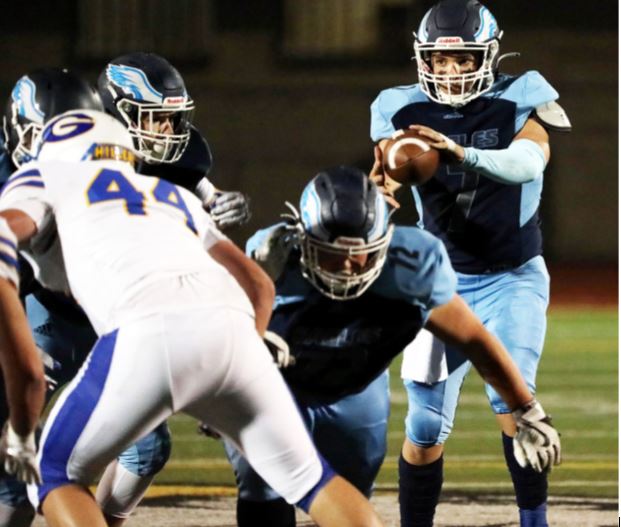 Are the Granite Hills Eagles the best high school football team in East County this season?
At 3-0 with half a season remain­ing, head coach Kellan Cobbs' team is certainly making a case for itself.
The Eagles defeated the visiting Grossmont Foothillers, 20-7, in the teams' Grossmont Hills League opener for both teams on March 26 after previously defeating the Valhalla Norsemen 56-7 on March 13 and El Capitan Vaqueros 48-21 on March 19 in non-league con­tests.
Granite Hills has outscored its opponents 124-35 in three games.
But, of course, three games do not make up a season, even in this COVID-shortened campaign.
The Eagles will face the Foot­hillers once more (April 16) while taking on perennial league heavy­weights Helix (April 9) and Steele Canyon (this Friday on the Cou­gars' turf).
Regardless of the final outcome it's been a season of redemption for Granite Hills, which finished 5-6 last season and bowed out in the opening round of the section playoffs.
"The defense played lights out," Cobbs said following his team's lat­est victory. "We left some points on the field with a few turnovers but the defense really caries us and won the game for us."
Senior signal-caller Justus Mc­Comb threw two more touchdown passes to give him eight on the season while sophomore Joaquin Thomas scored two long touch­downs — one on a 76-yard run and another on an 89-yard catch and carry — to give the Eagles flight.
Granite Hills led, 20-0, at half­time.
McComb completed nine of 15 passes for 213 yards while rush­ing 14 times for 84 yards to lead the team with 297 total yards and, in the process, post an impressive 143.8 quarterback efficiency rat­ing.
Thomas carried the ball 10 times for 87 yards and caught two passes for 90 yards to finish the game with 177 total yards. He tacked on 15 punt return yards for a game total of 192 all-purpose yards.
Senior Angel Almazon, who scored on a six-yard catch, amassed 132 total offensive yards on 124 receiving yards and eight rushing yards.
The Eagles out-gained the Foot­hillers 427-279 in total yards.
Freshman Jordan Glaze topped the Eagles on the night with nine tackles while junior Zach Burton and senior Andy Lowry both re­corded sacks. Senior Michael Wal­lace had one interception.
Granite Hills held Grossmont (1- 1) to 22 rushing yards.
Two and oh
McComb completed three touch­down passes while rushing for a pair of scores to lead the Eagles to a 2-0 start. Almazon caught two of McComb's touchdown passes, including a 67-yard sideline catch and carry.
McComb also passed four yards to senior Matt Keeley while junior Jaquayle Hodges and senior Austin McVey scored on short running plays.
Xavier Peace broke the goose egg for the Vaqueros (0-2) on a 97-yard kick-off return while quarterback Savigon Yokley later scored on a zigzag 22-yard run.
"I thought it was a good team win," Cobbs summarized. "The of­fense moved the ball well and we were able to play a bunch of kids. The defense caused some turn­overs early, so that always helps us get off to a good start."
McComb's first TD run was set up by a fumble recovery by Bur­ton.
"It was a great team win, the de­fense was flying all over the place," McComb said in a postgame televi­sion interview for KUSI-TV's "Prep Pigskin Report" as the player of the game. "My offense, my offen­sive line was giving me so much time even against a front that was blitzing. There's a couple things we need to work on to get better, es­pecially against a better team like Grossmont."