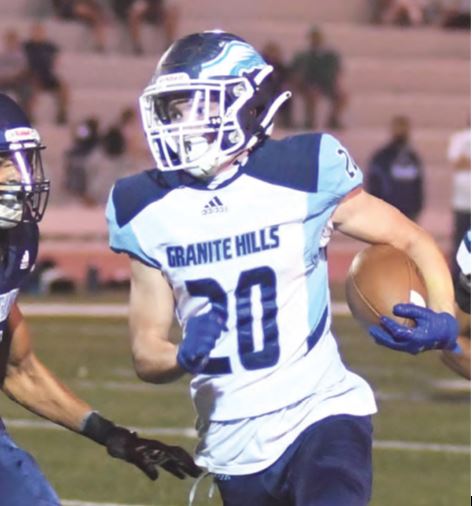 The 2021 fall football season kicked off with an optimistic 2-0 start for the Granite Hills Eagles. It ended last Friday with a 28-20 loss to the second-seeded Madison Warhawks in the quarterfinal round of the Division I San Diego Section playoffs.
It was an up-and-down season for the Eagles, who soared with blowout wins over the Valhalla Norsemen (62-0), Otay Ranch Mustangs (35-14) and Tucson Walden Grove (41-27) but had their wings clipped with unkind losses to Madison (34-14 on Sept. 3) and Eastlake (31-0 on Sept. 10).
Granite Hills took flight once more with a 31-14upset win at seventh-seeded Oceanside in the opening round of the playoffs on Nov. 5. But the 10thseeded Eagles couldn't find an updraft to stay aloft.
Madison (9-2) started its season slow but picked up the pace starting with its non-league win at Granite Hills. The Warhawks led 14-6 at halftime in last Friday's playoff game following a four-yard touchdown by Granite Hills' Joaquin Thomas Jr.
Easton Peterson later returned an intercepted pass 25 yards for a touchdown to narrow the score to 21-12 but the Eagles (5-7 overall) played catch-up the rest of the way in falling eight points short.
Junior Nico Tomasello scored Granite Hills' final touchdown very late in the game. But the visitors missed converting on an ensuing onside kick in the final minute and the Warhawks were able to run out the clock on the Eagles' season.
Granite Hills coach Kellan Cobbs said his team's inability to take full advantage of its opportunities, as well as mistakes committed, contributed to the season-ending loss.
Madison will host thirdseeded Lincoln Hornets (7-3) in Friday's semifinals with the winner to face either top-seeded Helix (7-3) or fifth-seeded El Camino (7-5) in the Division I championship game Nov. 27 at Escondido High School.
Of the seven East County teams entered in last Friday's quarterfinals, only Helix advanced with a 41-24 win over the ninth-seeded Grossmont Foothillers as senior Christian Washington rushed for 337 yards and scored five touchdowns.
Grossmont Valley League football teams earned a large measure of respect by placing four teams in the quarterfinals.
Grossmont Valley League champion West Hills, with its sterling 11-0 record, received the No. 5 seed in the Division III playoffs while league runner-up El Capitan, at 9-2, received the No. 7 seed in the division. Santana, the third-place team in this year's GVL standings with an 8-2 overall record, received the No. 8 seed in the division.
El Cajon Valley received the No. 10 seed in the Division IV playoffs.
All four East County teams met higher-seeded opponents in the quarterfinals. While there were five upsets in the opening round of the playoffs, and three last week, none of the Grossmont Valley League's four second-round entrants was able to muster enough points to advance to this Friday's semifinals.
Fourth-seeded Ramona (8-3) ended West Hills' perfect season in very unkind fashion by handing the visiting Wolf Pack a 51-0 defeat.
Second-seeded Mater Dei Catholic (9-0) blasted El Capitan out of the playoffs with a 55-0 shutout victory.
Top-seeded Mt. Carmel (10- 1) eliminated Santana, 34-14, while second-seeded Mission Bay (9-2) ended El Cajon Valley's season by a score of 35-7.
West Hills finished its season with an overall 11-1 record, El Capitan at 9-3, Santana at 8-3 and El Cajon Valley at 3-9.