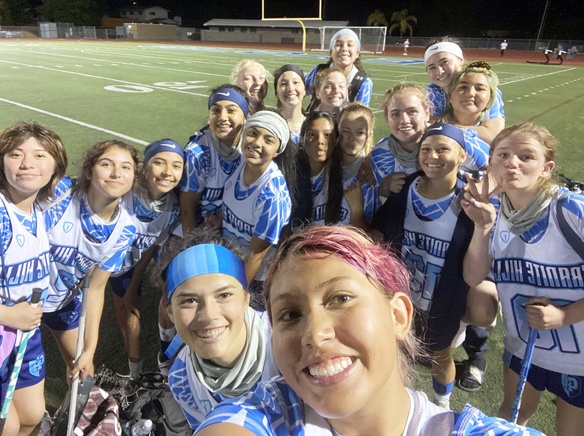 The Granite Hills High School girls lacrosse team had its 2020 season halted after just six games because of the COVID0-19 pan­demic. The Eagle ladies compiled a 5-1 overall record, including a 1-0 mark in league play.
Granite Hills reached double digits in scoring in all five games it won last spring, posting an 81- 37 goal-differential.
Obviously, there was a lot of unfinished business coming into this spring as teams were finally able to play a full schedule.
Granite Hills improved to 11-0 this season, 5-0 in league play, following Monday's 14-1 victory at Helix Charter High School.
The Eagles have soared on the playing pitch with a commanding 178-37 scoring differential. The El Cajon team has scored in dou­ble digits in all but one game this season, hitting 19 goals twice and 20 goals on two other occasions.
Granite Hills opened the sea­son with a 19-0 non-league win at Vista on March 27 and hasn't generally looked back. The Ea­gles scored a huge 10-8 revenge win over Patrick Henry in their first home match of the season on April 12 to make amends for a 13-3 setback last year.
The Patriots are currently ranked fifth in the section, plac­ing the Eagles in elite company.
"That was a really great win on all fronts," GHHS coach Jose Car­los Soto noted.
The Eagles followed with an equally intrepid 9-8 non-league victory at perennial powerhouse Bishop's on April 15.
"The season is off to a great start," Soto commented. "The team continues to grow and win as a team. With half the team with no previous experience, returners and captains Mikenna Ruffino, Julian Muns, Anelina Drugg, and Morgan Newkirk have really taken this team under their wings.
"Not to mention the under­classmen resurgence of fresh­men Sophia Jones and sopho­more Natalie Acosta has provid­ed a complimentary punch to the program. The girls are hoping to attain their eighth league title in nine years; this team is poised to overcome adversity and fight on."
Ruffino led the Eagles in scor­ing last season as a junior with 29 points (23 goals, six assists) in six games, followed by Acosta with 18 points (12 goals, six as­sists) as a freshman. They have not disappointed so far.
Neither has the rest of the high-scoring team.
Granite Hills, which is ranked sixth among section teams, has seven games left on its regular season schedule, including high profile non-league matchups at No. 3 Torrey Pines on May 6 and No. 9 San Marcos on May 15.
The Eagles wrap up regular season play May 19 with a home game against Helix.
The section playoffs, which will feature a competitively bal­anced three division format, are scheduled to start May 25-26 with first-round elimination play. Quarterfinals are scheduled May 28-29, followed by semifinals on June 1-2.
Championship games are scheduled June 5 at a site to be determined.