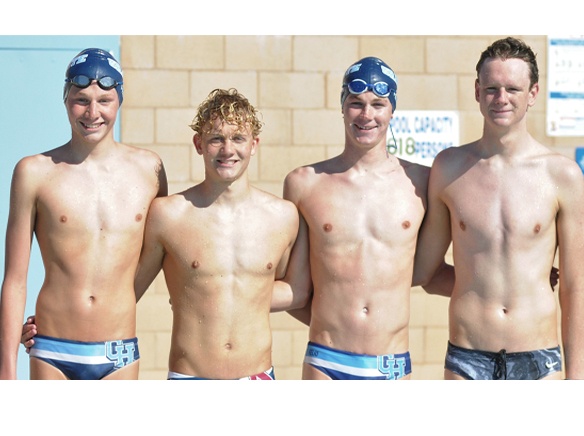 Granite Hills High School's athletics program has been in the spotlight to start the 2022- 23 interscholastic season, and there appears no end in sight. The school's football team won its first-ever CIF championship during the fall season; the Eagles kept on rolling by winning a regional and state championship before concluding a record-smashing season.
The school's wrestling team won its first CIF banner and went on to qualify nine mat men for the state championship meet, with two Masters champions and two state medalists (Collin Guffey, second at 152 pounds, and Abram Cline, third at 106 pounds) shining brightest. Along the way, El Cajon school's other fall and winter sports teams excelled as well, with the Lady Eagles girls basketball team placing runner-up in the Division III finals and the girls soccer and water polo teams reaching the Division II quarterfinals. Now, the calendar has flipped to the spring season and the school's swim and dive team appears to be the next in line to excel. "We have some super-fast boys who are setting school records" Granite Hills girls swim coach Cathy Elgas said.
"As a team, we want to do well at league and do well at CIF. For our top swimmers, our next rested meet will be CIF." The Eagles got a gauge on where they stand in the greater picture after competing in the Mt. SAC Winterfest March 17- 18 in Walnut.
The event, which boasted 1,500 swimmers this year, is regarded as one of the fastest high school events in the region, and the East County team proved it is indeed fast, make that super-fast, in fact, after setting four school records. Junior Braden Felio broke two individual school records while also swimming a leg on the school's record-breaking 400 freestyle relay unit (3:16.24).
Felio set new pool records in winning both his individual events, timing 1:40.27 in the 200-yard freestyle and 4:35.41 in the 500 freestyle. Senior Aidan Keane broke his own school record in the backstroke (52.08, third overall) and also swam a leg on the 4×100 school-record relay unit.
Keane also set a personal best in the 200 individual medley (1:56.61, placing fourth). The super-fast 4×100 relay team also included senior Vaughan Clark and freshman Austin Felio. Austin Felio finished eighth in the 200 freestyle finals in 1:46.90. "Aiden and Braden are definitely the leaders in our program," Eagles boys coach Rhett Gaeir said. "I expect both of them to swim at the next level. Even in practice they motivate the younger kids."
The Eagles boys team didn't steal the whole show at the Mt. SAC Winterfest. The Granite Hills girls 200 medley relay team scored a near school record in finishing ninth overall with a time of 1:53.59.
Swimming legs on the fast relay were Izzy Cox, junior Ava Eaton, junior Brooke McCoy and freshman Linnea Puterbaugh. The Lady Eagles placed third in the event at last year's Division I finals with McCoy and Cox in tow. Braden Felio placed third at last year's CIF Division I finals in the 200 freestyle and fifth in the 500 freestyle while Keane was sixth in the 100 backstroke. Sophomore Chance Hall finished fourth in the boys varsity diving competition at the prestigious Mt. SAC event with a score of 387.70 for 11 dives.
Providence Hall's Nathan Warson won the event with a commanding 541.95 points. Hall, who qualified for last year's high school state meet after posting a third-place finish at the Division I section finals, is also contributing more to the team effort this season by swimming in more events. "Chance is an awesome diver," Gaeir noted. "As a swimmer, he's improving every day. He's one of the top breaststrokers in our league."
The Eagles remain undefeated in Grossmont Hills League dual meets after the boys and girls squads swept past Helix and Valhalla in their two most recent duals. Granite Hills won both league gender titles last year.
Making a splash Granite Hills will host both the Grossmont Hills League and Division I section swim and dive finals for 2023.
The league schedule features the diving finals on April 24, varsity prelims on April 26 and varsity finals on April 28. Medals will be awarded in individual events, though no official team championship is awarded. The state championship meet is May 11-13 at Clovis West High School.