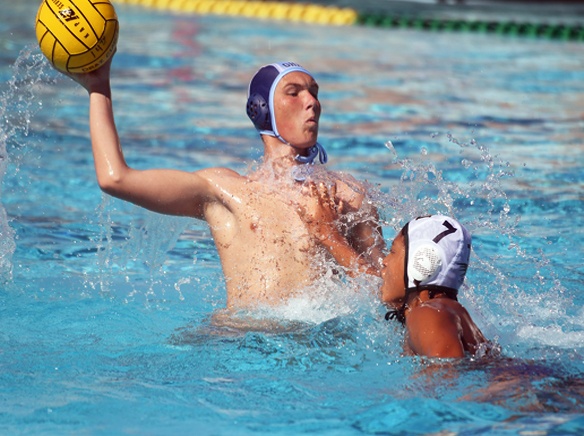 As is customary at this point of the season, the goal for all high school teams, regardless of the sport, is to compete for league titles and go deep into the San Diego Section playoffs.
This year is no different for the Granite Hills High School boys water polo team.
"We have a small, fairly inexperienced group but we have a ton of potential," explained long­time Granite Hills coach Rhett Gaeir, whose team faced off preseason competition with an 11-8 vic­tory over the Del Norte Nighthawks as part of the 14th annual Dick Draz Classic held Aug. 9-10 at the Granite Hills High School Aquatic Center.
"We have all the tools to be very successful this season," noted Gaeir, who has coached at the school since 1995.
This year's Eagles team is all about family, in particular. The GHHS head coach is joined on this season's team by nephews Kobe and Austin Gaeir.
The younger Gaeirs, who are cousins, have al­ready made an impact.
Kobe Gaeir scored three goals in the preseason win over the Nighthawks while Austin Gaeir was credited with one goal.
The Gaeir cousins are joined on this year's team by top returners Mason Smalls, Drew Stinnett, Adam Plotts and Ryder Harris. All are seniors except Stinnett, a junior.
Smalls scored three goals while Plotts and Stinnett both scored two goals in the win over Del Norte.
Sophomore goalie Lucas Johnson headlines the team's impact newcomers.
The Eagles coach has been impressed by John­son's work ethic. "He has one year of experience but has been improving every day," Rhett Gaeir said.
Granite Hills is shooting high this season after ending last year with an 8-7 loss to Patrick Henry in the Division II quarterfinal playoffs.
"We know our league is very tough and we want to be competitive within our league," the elder Gaeir said. "We want to win Division II CIF. There are a lot of teams in the division that are capable of winning it. The division is going to be fun this year."
The Eagles host the Mar Vista Mariners in their first regular season home game of the 2019 season on Thursday, Aug. 29, starting at 4 p.m.