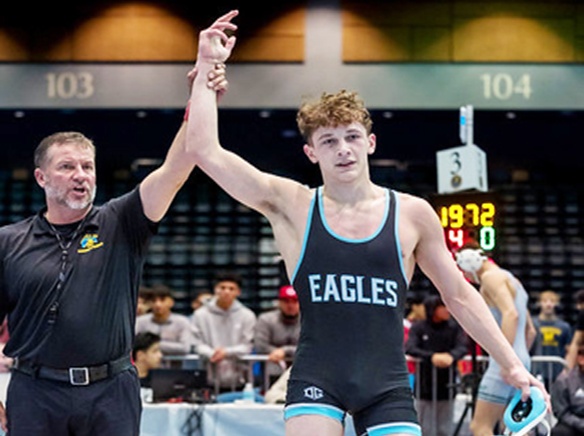 Girls and boys wrestling teams were the first to award championship trophies and individual medals as the 2022-23 winter sports playoffs faced off.
The Granite Hills Eagles made history on the mat last Saturday at San Pasqual High School by winning the section's Division II championship title. It is the first CIF wrestling championship for the East County school despite decades of excellence on the mat.
The Eagles last came closest with a runner-up finish to the Poway Titans in the 1994 Division I tournament finals.
The CIF wrestling title follows in the footsteps of the school's history-making first CIF football championship during the preceding fall sports season. The Granite Hills football team didn't stop there after going to win regional and state championships.
Wrestling also includes a state championship tournament. The Eagles will attempt to qualify as many mat men as possible for this weekend's San Diego Masters state-qualifying tournament Friday and Saturday at Mission Hills High School.
The section's girls Masters state qualifying tournament is Saturday at Mission Hills High School in a first of boys and girls wrestling both competing for state qualifying berths on the same weekend at the same venue.
The Eagles captured this year's Division II championship in convincing fashion with 332.5 team points — more than double that of runnerup Mira Mesa — and nine individual weight class champions.
Granite Hills' honor roll included individual champions Abram Cline (108 pounds), Carlo Arreola (115 pounds), Aiden Chur (122 pounds), Jayson Suetos (128 pounds), Devon Wells (140 pounds), Ryan Carroll (147) pounds), Collin Guffey (154 pounds), Zachary Waterhouse (162 pounds) and Keagan Kroeger (197 pounds).
Claiming second-place medals for Granite Hills were Layronz Fraser (134) and Joseph Smith (222 pounds).
In nothing short of stunning, the Eagles placed wrestlers in the championship finals in the opening nine weight classes, winning eight gold medals.
That's something indeed for the history books.
Granite Hills head coach Jesse Sheard, who wrestled for the Eagles as a four-year starter and placer before attending college in the Midwest to play football, admitted it's been a long time coming for the school's mat program to finally achieve the pinnacle of greatness. And it does feel great, he said.
"It was an amazing day," Sheard noted. "As their coach we get to spend many hours with these athletes practicing, competing and traveling, so I get to see the good and the bad. It was amazing Saturday seeing all of our boys compete and succeed.
"I'd like to thank all of our coaches, too. They go above and beyond to make sure our athletes are as prepared as possible. Their commitment to these boys and girls can't be matched.
"We had a huge support system this year. Saturday, we had a bunch of fans, teachers and administrators come out and support our boys. Big thank you to them for all their support this year.
"I love coaching this group. They always want to get better and feed off the momentum and success of their teammates. They are never satisfied.
"We made history Saturday winning CIF for the first time ever as a team. We had nine CIF champions which was the first time in program history. Collin Guffey hit his 100th career win."
Cline, Chur, Suetos, Wells, Guffey, Waterhouse and Kroeger all won by pins in the championship round while Arreola won by a major decision and Carroll won by a minor decision.
Granite Hills finished the 18-team tournament with 11 place-finishers overall as Junior Bumanglag (172 pounds) claimed third place and Royce Harper (184 pounds) took fifth place
Guffey and Kroeger finished 4-0 with four pins each while Wells finished 4-0 with three pins and one technical fall. Carroll and Waterhouse both finished 4-0 with two pins.
Cline, Chur and Suetos all finished 3-0 with three pins while Arreola was 3-0 with two pins. Fraser finished 3-1 with two pins.
Sheard said he hopes his wrestlers can keep up their momentum and peak for the next two weeks — Masters and state competitions.