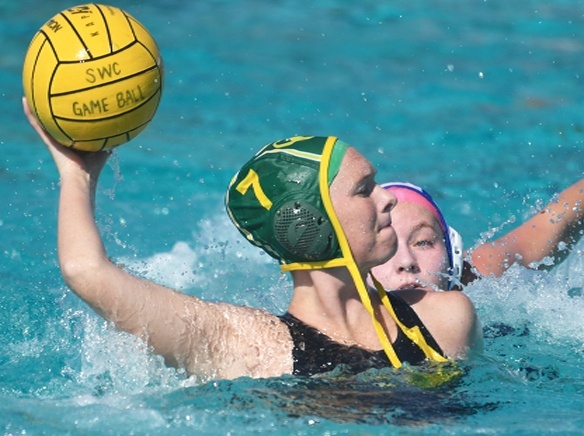 The Pacific Coast Athletic Conference men and women's water polo championship tournament is scheduled this Friday and Saturday, Nov. 5-6, at Southwestern College. The Grossmont College Griffins have an eye of not only appearing in the championship games but winning them.
"It's been a process," said Grossmont men's head coach Ty Lackey, whose team earned the top seed in the men's tournament with a 10-0 regular season record. "A slower process than we're used to, but we've never faced a COVID-19 season before. A lot of things have changed but it's been fun. The boys haven't given up; they keep pushing hard."
The Griffins (20-12 overall) finished 3-1 at last weekend's Dia de los Muertos tournament at Southwestern College, with its lone loss coming in begrudging fashion in the final five seconds to Cerritos College.
Grossmont entered the game ranked seventh in the state while Cerritos was ranked eighth.
Key players this season include Brock Kammerer (University City), Garrett Durado (Poway), Emiliano Castro (Bo-nita Vista), Austin Gaeir (Granite Hills), Ryan Beery (Classical Academy) and goalkeeper Parker George (Grossmont).
Kammerer paced the team in scoring with 108 goals and 57 assists through 32 games, followed by Durado with 82 goals and 34 steals, Castro with 51 goals and 33 assists, Beery with 36 goals and Gaeir with 28 goals and 28 assists.
George had recorded 207 saves, a 50.0 save percentage and 12-6 win-loss record.
The Griffins' challengers this weekend look to be San Diego Mesa, San Diego Miramar and Southwestern — all of which finished 6-4 in the conference standings. Mesa had the best overall record at 12-8 while Southwestern was 14-10-1 and Miramar 13-10.
Grossmont defeated Southwestern, 13-6, at last weekend's non-conference tournament as Beery notched four goals and Santana High School alumnus Anson Rasmussen scored three times.
The Griffins rallied from an early deficit to build a 10-7 lead on Cerritos in their final game of the tournament, but the Falcons (18-6) rallied with four unanswered goals, scoring on an intercepted pass with five seconds to play, to cap a wild 11-10 comeback victory.
Lackey said his team was missing three players from the lineup – two on concussion protocols and another because of illness – that may have affected the team's depth at the end of a long weekend of high-end competition. The Grossmont coach said he expects his team to be at full strength this coming weekend.
"The goal is just to be better," Lackey said. "The biggest thing is to win the conference tournament to get that automatic bid to the regionals."
The Grossmont College women's team finished 8-2 in conference, 15-7 overall — runner-up in the conference standings to Palomar (10-0 in conference, 14- 8 overall).
The Lady Griffins finished 4-0 last weekend.
"We have five sophomores who are coming back from the COVID-19 year," longtime Grossmont College head coach Larry Larsen said. "It's been a mix. Everybody plays. We have kind of two stars and we kind of rotate everyone."
Standouts include Maddy Ward (Granite Hills), Maddie Logsdon (Valhalla) and goalkeeper Breanna Kelley (Steele Canyon).
Logsdon and Ward have keyed the team in goal scoring while Kelley has recorded a 60.9 save percentage. Ward anchors the defense but can also move up offensively.
"We play strong defense as a team," Larsen said. "We allow very few goals."
San Diego Mesa (5-5, 8-12), Southwestern (4-5, 6-12), Miramar (2-8, 5-15) and Crafton Hills (0-9, 1-10) bring up the balance of the conference standings.
"The whole season comes down to winning conference," Larsen said. "Us and Palomar are the top two teams."
The playoffs should be exciting.