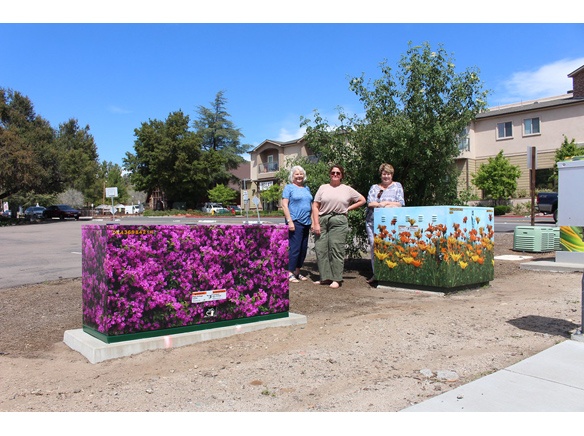 The Historic Town Hall building has been given a bit of loving main­tenance with two newly spruced up areas completed just in time for their April 20 open house, courtesy of some philanthropic help and com­munity volunteerism.
Nearby the parking lot, on the busy corner of Alpine Boulevard and Victo­ria Avenue, several utility boxes have been decorated with vinyl wrappings printed with flowers and foliage from Lee Sie's landscape photography.
Grounds Supervisor Abigail Allen said the newly decorated utility boxes have been several years in getting their facelift since large trees were removed from the spot years ago.
It is a colorful alternative to plant­ing anything on the corner that sees frequent foot traffic from people cut­ting through the area to save a few steps.
The primary problem with add­ing anything to the front corner, Al­len said, is anything planted in that spot tends to get destroyed during parades that travel down the boule­vard. Woman's club members have considered installing large planter boxes but aren't quite certain what to do with the space. "There's not a lot we can do with this spot, since San Diego Gas and Electric originally did the work on the easement, so we wrapped the utility boxes," Allen said.
Around the back of the build­ing, Kiwanis of Alpine worked alongside Alpine Woman's Club members to create a space dubbed 'Kiwanis Korner'.
Allen said she and Building Su­pervisor Carlette Anderson asked Kiwanis about working together on the space back in 2019.
Woman's Club members orga­nized a brick sale, where anyone could purchase a brick in the seating area, and Kiwanis agreed to fund about $2,000 worth of im­provements, along with several members purchasing bricks with their name engraved for posterity.
Allen also said SiteOne Land­scape Supply donated all the hardscape materials, including sand and bricks, and assisted with delivery and pick up.
Volunteers did a great deal of the work on Kiwanis Korner, Al­len said, including friends and family that helped plant the cor­ner.
"We laid all the irrigation, built the pergola, picked up and plant­ed everything," Allen said.
Money saved from the project can now be redirected to giving the gazebo a fresh coat of paint, she said, as it has sat basically un­used for over a year.
That is set to change, club Pres­ident Rayna Pfau said, as the his­toric building is once again open for weddings and other events within limits due to San Diego county COVID-19 directives.
"We're going to be holding our Open House on April 20, from 10 a.m. to noon and anybody that is interested can come check out the building and join," Pfau said.
Maintaining the historic build­ing itself, which was built in 1899 is a top priority, Pfau said, along with awarding scholarships on an annual basis to graduating se­niors who live in Alpine and host­ing private and public events.
The Alpine Woman's Club has maintained the historic building since 1932; it was designated a Historic Site by the San Diego County Historic Site Board in June 2006.