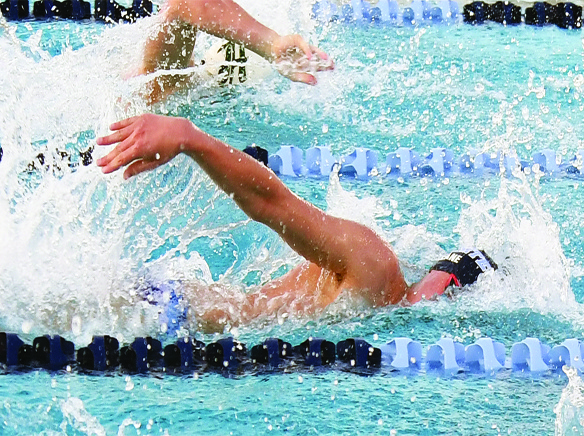 While the go-ahead to start practices on Feb. 1 for cross country and swimming and diving has been issued, the San Diego Section has eliminated postseason competition in some Season 1 sports.
The section announced Jan. 22 that playoffs or championships in football, competitive cheer, girls volleyball, field hockey and roller hockey will not be held this year to allow more athletic opportunities and regular season play for student-athletes, section commissioner Joe Heinz noted in a memo to section principals and athletic direc­tors.
"Our intent is to allow leagues as much as to conduct regular season contests and provide as many opportunities as possible for our student-athletes," Heinz said. "The State CIF Office has already announced there will not be any CIF state/regional tournaments or championships for Season 1."
Time is running out due to the delayed start to the 2020-21 interscholastic season. An initial Dec. 12 start date had been set prior to the start of the current school term but that came and went after inaction by the California Department of Public Health to update its youth sports guidance.
When the CDPH did issue an update, the sec­tion had already put a freeze on the start of the season, pushing any activities into the 2021 part of the school calendar.
With the COVID-19 pandemic continuing to rage, certain low-contact outdoor activities have been given the green light to start their seasons. The first two sports to return to the playing field are cross country and swimming and diving.
Granite Hills High School will host West Hills High School in a dual meet on Feb. 26 to start competition. Until then, teams will practice at their own pools while observing proper safety protocols.
Heinz said the section continues to "work dili­gently" toward holding section championships in both cross country and swim/dive.
The date set for the section's cross country championships is March 27. Dates are still pend­ing for the section's swim and dive finals, though the season must end by April 24.
Heinz said with the elimination of section cham­pionships and state/regional championships in the aforementioned sports, the following dates have been issued as the last official dates for com­petition of the listed Season 1 sports. They include competitive cheer (April 3), cross country (March 27), field hockey (March 20), football (April 17), girls volleyball (March 20), roller hockey (March 20) and swim/dive (April 24).
The seasons and dates for gymnastics and badminton are still being reviewed, according to Heinz.
A six-week football season is under discussion, though that sport may have longer to wait than most to take the playing field due to it being clas­sified as a high-contact outdoor sport.
The section's Season 2 sports currently remain in place. Several Purple Tier sports, including boys and girls golf and boys and girls coed tennis, are scheduled to start this month. Golf may start practicing Feb. 8 while tennis may start on Feb. 15.
Track and field may start practicing Feb. 15 but competitions cannot be held until March 13.
"We anticipate that a decision on the status of the CIF state or regional cham­pionships has not been made at this time for Season 2," Heinz said. "At some point in mid-April a final decision will be made on the status of CIF state/regional, along with the CIF San Diego Section championships for Sea­son 2."
Season 2 sports also include baseball, girls lacrosse, softball (all classified in the Red Tier), boys lacrosse, boys and girls soc­cer, boys volleyball and boys and girls water polo (all classified in the Orange Tier) as well as boys and girls basketball, competi­tive sport cheer and boys and girls wrestling (all classified as Yellow Tier sports).
Making a splash
Granite Hills is scheduled to host three swim meets to start the league season. The Eagles will also test Grossmont (March 5) and Valhalla (March 12) in home meets before traveling to compete at Steele Can­yon and Helix.
Spring break is scheduled March 13-21, followed by league finals week April 12-16. CIF fi­nals week is scheduled April 21-24.
Updates: www.cifsds.org.