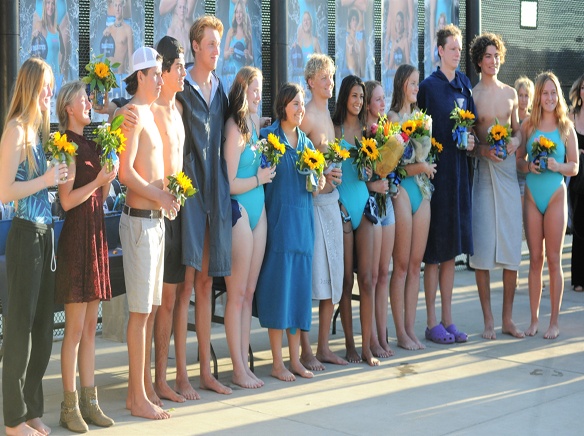 The Granite Hills Eagles swim team honored its large class of 14 seniors during the team's Grossmont Hills League dual meet against the visiting Grossmont Foothillers on April 21. Granite Hills swept all four events on the day to give their seniors a victorious send-off: 101-68 in the girls junior varsity dual, 99-54 in the boys JV dual, 133-50 in the girls varsity dual and 130-49 in the boys varsity dual.
"It was great," GHHS girls swim coach Cathy Elgas said. "We showed that we were league champions — undefeated. We had a lot of parents who were involved, it was well organized."
The senior swimmers were honored by underclassmen on the team with a tunnel through which they traversed to receive bouquets of flowers at an awards table.
Elgas and boys coach Rhett Gaeir helped emceed the proceedings.
Seniors receiving recognition included Chloe Morgan, Aidan Keane, Vaughan Clark, Kelly Henderson, Courtney Kelly, Olivia Sapper, Carter Allen, Joseph Alvernaz, Korinne Mc- Carty, Izzy Cox, Cienna Klasna, Brayden Johnston, Jacob Haddock and Zoey Kelley.
Clark said team bonding events were the most fun while competing all four years on the team.
"Going to the Mt. SAC Winter Fest my junior and senior years stood out as well as going to league finals my junior and senior years," he said.
Clark leaves Granite Hills as a three-sport athlete in water polo, soccer and swimming. The Eagles boys water polo team won back-to-back league championships the past two seasons. He said he's going to attend Grossmont College to play men's water polo there.
Clark participated in three events at last Friday's league finals, placing first in the boys meet-record setting 200 medley relay (1:38.95) and fourth in both the 50 freestyle (23.04) and 100 freestyle (50.41).
Morgan, who captured a firstplace finish in the girls 200 freestyle (1:59.26), second place in the 500 freestyle (5:21.16) and third place in the 400 freestyle relay (3:55.59) at last Friday's league finals, will continue her water polo career at Cal Baptist University in the fall.
"I'm excited to play at a higher level and experience playing against some of the best opponents in the country," she said.
Morgan, a four-year member of the swim team, earned player of the year honors in the Grossmont Valley League for girls water polo her junior year as well as first team All-CIF honors as the Lady Eagles secured a runner- up finish in the Division II championship game.
She's earned the team's MVP award all four seasons, been a team captain three years and received the CIF Sportsmanship Award.
She holds school records for most goals scored in a game (11), season (149) and career (400-plus).
"Being close with all my teammates and making bonds that will last a lifetime are what I'll remember most about high school," she said.
Standouts Cox and Keane are both continuing their swim careers at the next level; Cox will be attending South Dakota State University (the other SDSU) while Keane remains undecided about his final landing point.
"It was a lot of fun," Keane said of his time at Granite Hills. "I made a ton of friendships. It's a bit sad leaving but that's how life goes."
"Over the past four years, I've grown as a person on and off the pool deck," Cox said. "College is a new beginning – academically and athletically." Cox enters the next level as her school's recipient of the Grossmont Conference Athletics Sportsmanship Award winner.
"It was exciting to win it because I wasn't expecting it," she said.
She left the pool at last Friday's league finals with four gold medals following first-place finishes in the 200 medley relay, 200 freestyle relay (1:41.57), 50 freestyle (25.91) and 100 freestyle (54.32).
Keane, after setting a meet record in 200 medley relay, captured first place in both the boys 200 individual medley (1:58.16) and 100 backstroke (53.31) before placing runner-up in the 400 freestyle relay (3:21.04).
Gaeir, who has known both Keane and Cox since they were children in club swimming, wishes them well on their next journey in life.
"I've watched them grow up and become better swimmers," Gaeir said. "They're two of our best swimmers in the program. Both have great attitudes. Both are hard workers. Both are excellent role models for our program."
Soaring Eagles
Three meet records were set in last Friday's league finals — two by Granite Hills (one in the 200 medley relay and the other by junior Braden Felio in the boys 500 freestyle of 4:42.63).
Felio's meet record in 500 free in holding off Helix's Cameron Drake (4:45.14). The two rivals swam stroke for stroke beside one another until the last lap. Drake (4:48.06) had out-clocked Felio (4:54.32) in the preceding prelims.
Felio finished the meet with three gold medals (200 medley relay, 500 freestyle and 200 freestyle in 1:44.44) and one silver medal (400 freestyle relay in 3:21.04).
Keane, junior Teagan Pennings, Felio and Vaughan Clark swam legs on the 200 medley relay.
The Lady Eagles swam to five gold medals in the meet (200 medley and 200 freestyle relays, Morgan in the 200 freestyle, Cox in the 50 and 100 freestyle), two silver medals (Brooke McCoy in the 200 IM and 100 backstroke) and four bronze medals (Linnea Puterbaugh in the 200 IM, Sophia Birkenbach in the 50 freestyle, Ava Eaton in the 100 breaststroke and 400 freestyle relay).
Granite Hills topped the league finals field with 544 points to 431 for runner-up Helix.
"The girls swam great and we were only partially rested," Elgas noted. "The girls raced. We got a lot of automatic CIF cuts. We are just hoping to get time improvements at CIF in addition to getting second swims for Saturday. Some girls are trying different events which will be fun to watch. We were undefeated this season."
Braden Felio and younger brother Austin Felio finished 1-2 in the 200 freestyle, first and third in the 500 freestyle and joined forces in the 400 freestyle relay.
Teagan Pennings finished third in the 100 breaststroke as the Eagles finished runner-up to Helix (497-475) at the league finals.