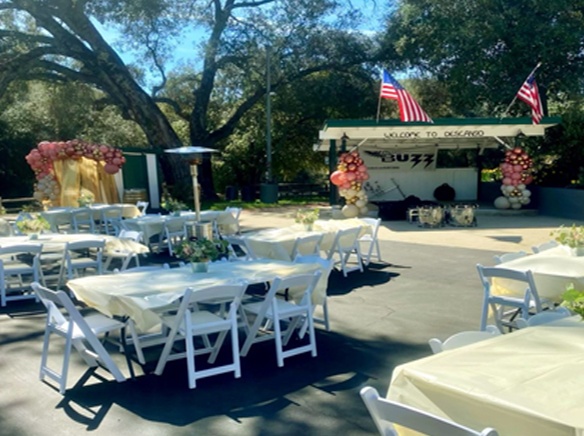 In 1898, a group of residents built a school, and within a year built its Town Hall in Descanso. By December 1899, the Town Hall was dedicated to the general pubic for religious, political, literary and social purposes, and the same group of residents formed the Town Hall Association.
On Saturday, April 9, the Town Hall will be showcasing local services, products, caterers, florists, photographers, musicians, bakers, decorators so people can see the new renovations and see what services are available at its Wedding & Party Planning Potpourri.
Descanso Town Hall rental coordinator Rebeca Toth said the Town Hall is a historical building built by people in the community. She said it has served as a meeting place for 120 years for the community, town hall meetings, and that the Town Hall Association has run it for many years now, maintaining the building and recently just renovated it over the last summer, keeping it within its historical pieces.
"We used the same wood that was used back in that time," she said. "The flooring when it was built was actually leftovers from the Hotel Del Coronado and that is still what is on the floors."
Toth said to keep maintenance up to date, it began renting out the town hall for weddings and parties, but due to the pandemic it has been closed for two years.
"Now that we are back and running, we are doing very well as far as getting bookings in," she said. "Everything we do here is on a volunteer basis. Because we are trying to serve the renters coming in, but also our local vendors, artists, musicians and everything else, we came up with this new event. It's like a bridal bazaar, party planning, where current renters can come and see if they need any services. We already have 20 vendors, and we are very excited about it. We are hoping it goes well."
Toth said the event is also a way to showcase the historical building and a rental venue that is extremely affordable and beautiful. She said rental includes tables and chairs, and use of a commercial kitchen.
"It is just a fabulous place for any event," she said. "We are serving our locals of course, but also people that are looking for venues coming from different places that may not even know about us because we have been under the radar for so long."
Toth said the event is open to everyone at that it is free for all who attend.
"We want to get the word out to other communities," she said. "Not only ours, but everywhere. The vendors are not being charged. It is a free event to get information and look at the venue and start planning their parties."
Toth said the Town Hall can accommodate up to 180 people with 2,200 square feet, with outdoor areas where there is a pergola for weddings, a bandstand, everything is lighted, electrical connections inside and outside, horseshoe pits, and paved parking.
"Renting the town hall is very basic," she said. "We only charge $600 for the entire day. We do not even charge for the hour, so everything is included for this price for any event that you want to have. It is a great deal."
For more information visit www.Descansotownhall.org.