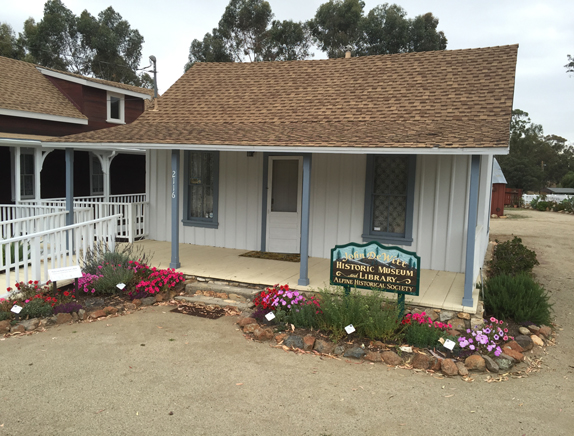 The Alpine Historical Soci­ety's Museum, a collection of two houses, artifacts, exhibits, photos, and documents on an acre of land on Tavern Road, has plans.
One will be a summer exhibit that will focus on a former resi­dent, the late painter/illustrator/artist Justin C. Gruelle. The other will be a historic tour of Alpine aboard an Old Town trol­ley tentatively set for Septem­ber 2019.
"He (Gruelle) has an 18" x 14" painting in the Smithsonian," said former long-time museum president Carol Morrison of Gruelle.
Gruelle, born in 1889 and later died in 1978, resided in Alpine in his later years. Gruelle and his wife, Mabel, an artist as well, came to Alpine in 1955 and lived on Lilac Lane.
Gruelle was commissioned by the Works Progress Admin­istration to paint murals. His mural "Early Birds" is part of the collection of the Smithson­ian Institution's Art Wing. He also contributed some illustra­tions for the "Raggedy Ann" and "Raggedy Andy" books written by his brother Johnny Gruelle according to the museum's web­site page.
The two houses on the grounds have different focuses.
One showcases the twenty-sixth doctor in the state of Cali­fornia, Dr. Sophronia Nichols, an Alpine resident; the other has changing exhibits. Addition­ally, both houses contain many historical artifacts, photos, and documents relating to Alpine.
Another point of curiosity in Alpine is referenced on their website, Dinosaur Land, which opened in 1962. Dinosaur Land lasted about a year.
One dinosaur, named "Arnol­dasaurus", remains near 2400 Alpine Boulevard.
The museum's document ar­chives include local newspapers.
Included in the document archives is an extensive collec­tion of local newspapers which include The Alpine Sun dating back to 1952, online, on their website. The collection is avail­able for viewing and copying.
"The museum opened in May 1998," said current museum president, Tom Myers.
The museum contributed the then-and-now pictures of Alpine on display at Barons Market.
To find out more about Jus­tin C. Gruelle's up-and-coming exhibit and their fall historical tour visit their website at: www.alpinehistory.org.