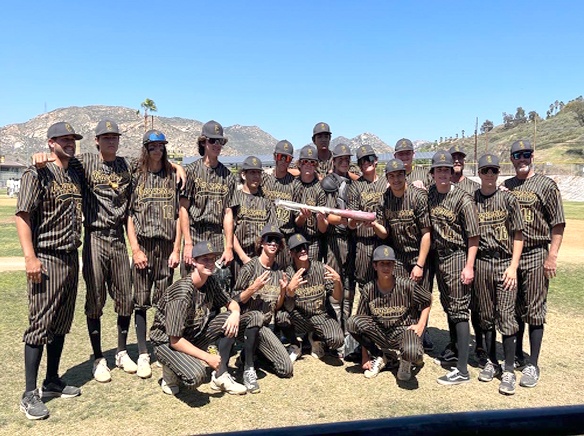 The El Capitan High School baseball team completed a perfect 4-0 run through this year's 71st San Diego Lions Tournament with wins over Bakersfield Christian (6-5 on April 11), San Ysidro (8-3 on April 12), Foothills Christian (12-6 on April 13) and 7-3 over Alpha Charter from Elverta in the 3-A Division championship game on April 14.
The Vaqueros (11-8 overall, 2-0 in Grossmont Valley League play) overcame an early 3-0 deficit in the championship game by scoring three runs in each of the second and fourth innings. El Capitan out-hit Alpha Charter 12-5 but the teams combined for five errors.
Senior Cole Winsor and junior Jett Hayes both led the Vaqueros with two RBI while senior Clayton Brown, sophomore Talon Tucker and senior Ethan Curo each drove in one run.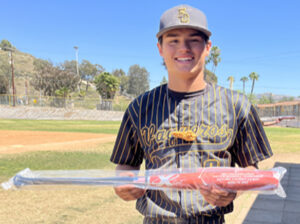 Winsor, who earned MVP honors in the division, pitched a complete game five hitter with 10 strikeouts.
Make no mistake, winning a Lions tournament division championship is no easy task with four games played in as many games. Teams will find their pitching stretched and every run counts.
"This year got off to a shaky start to say the least (1-3), but the boys have bounced back in a strong way the past few weeks," El Capitan coach Jonathan Meyer said. "The team at the beginning of the year set very high goals and is still set on achieving these goals. We have done very well against the teams ranked highly in Division IV and know we can do well against the competition in the postseason if we play how we played this past week in the Lions tournament.
"In the Lions tournament we played four quality teams. San Ysidro has been playing great baseball all season and we jumped out to an 8-0 lead after two innings. The bats came alive that day and have continued to stay hot.
"The Bakersfield Christian team had three players committed to highly ranked Division I NCAA schools and Bakersfield themselves were ranked within the top 150 schools in the state. The comeback victory that day proved to the team that they could compete with anyone. This included Alpha Charter, who was coached by former MLB manager Jerry Manuel.
"Alpha Charter had high quality bats and strong arms. They were 16-1 coming into the game and were beating teams with ease prior to that game. After starting the game down 3-0 after one inning the Vaqueros rose to the occasion and put on seven unanswered runs.
"Cole Winsor pitched a complete game allowing only two hits and no runs after the first inning. He struck out 10 batters while only walking one. He threw his best game of the year that day and by far the best game of his career. He is in his senior year and third year on varsity."
Winsor picked up the win over San Ysidro by allowing one hit in three innings with five strikeouts. He also had a triple in the game. Brown led the Vaqs with two RBI, also with a three-bagger in the game.
Winsor had four RBI in the win over Foothills Christian after finishing the game with two hits, including a home run. Sophomore Brody McAuliffe was the winning pitcher by allowing one run in 5.2 innings with six strikeouts.
Hayes is hitting .400 on the season while freshman Landon Harbach is hitting .412. Winsor has three home runs this year and has an on-base plus slugging percentage of 1.107.