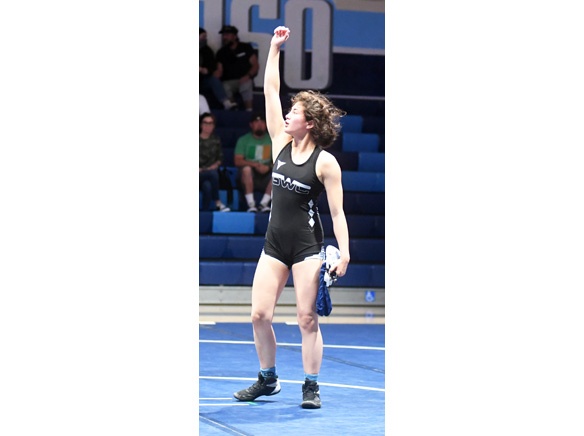 Granite Hills High School se­nior Kailey Smith keyed Gross­mont Conference competitors at last Saturday's San Diego Section girls wrestling tournament at San­tana High School with a first place showing in her 103-pound weight class.
Smith, a returning state quali­fier, pinned all three of her oppo­nents in the first period to march off the mat with the gold medal.
She was the lone East County champion in the 45-team single division event to conclude the sea­son.
There will not be a girls section Masters state-qualifying tourna­ment or a state championship event this year.
Smith was impressive on the mat in this shortened season, placing runner-up at the 18-team Granite Hills Invitational on May 8 and first place at the Grossmont Conference championship tourna­ment on May 15 while wrestling boys.
She lost by a respectable 9-2 de­cision to Olympian's Abram Cline at the Granite Hills Invitational and defeated Grossmont's Andrew Mercado at the conference finals by a score of 7-2.
Smith was just as impressive at last Saturday's all-girls event with a 1:08 pin of Steele Canyon's Bella Sevillano in the quarterfinals, a 1:39 pin of Imperial's Sandra Ar­guelles in the semifinals and a 54-second pin of Brawley's Jay­lee Cazares in the championship round.
East County recorded three sec­ond-place finishers in the 137-deep entry field.
West Hills' Chloe Tolentino placed runner-up in her 128-pound weight division while Grossmont's Sarah Stevens placed runner-up in her 133-pound division.
El Cajon Valley's Valeria Ro­cha Ibarra finished second at 237 pounds while Steele Canyon's Faith Manis placed third in the same weight class.
Tolentino opened the tourna­ment with three quick pins mea­suring 42 and 40 seconds and another in 1:29 but was pinned in the final in 2:25 by Imperial's Ariah Barragan.
Stevens won her opening two matches — a 4:39 pin against Olympian's Makenna Harbin in the quarterfinals and a 17-5 major decision over Clairemont's Riley Higgins in the semifinals. Howev­er, Stevens could not continue her winning streak after dropping a 7-0 decision to Rancho Bernardo's Annabel He in the championship round.
Rocha Ibarra pinned her way to the finals with falls of 21 and 37 seconds but lost a close 10-7 deci­sion to Olympian's Angelina Leal in the championship round.
Brawley, braced by two individ­ual weight class champions, won the team championship with 161 points while Mira Mesa, also with two individual CIF champions, placed runner-up with 103 points.
Boys wrestling
The San Diego Section will hold its traditional four divisional boys wrestling championships this Sat­urday at selected sites around the county.
East County will be the site of the Division IV tournament, which will take place at Mount Miguel High School, starting at 9 a.m.
Other divisional sites include Mission Hills High School (Divi­sion I), San Pasqual High School (Division II) and Montgomery High School (Division III).
There will be no section Mas­ters state-qualifying tournament or state championship event this year.
Weight classes will feature 16- man brackets; each wrestler is allowed two family members in attendance.
Mountain Empire, Mount Miguel and Christian will com­pete at the Division IV tournament while El Cajon Valley, West Hills, Santana, Monte Vista and El Capi­tan will compete at the Division III tournament.
Grossmont, Valhalla, Granite Hills and Steele Canyon will com­pete at the Division II tournament while Helix will compete at the Di­vision I tournament.
For more information, visit the website at www.cifsds.org.